What's Revolar?
It's the fastest way to send for help at your location. This small, powerful device empowers you to be proactive about safety and stay connected to your friends and family. Use it for up to a year on a simple, easy-to-replace battery — no charging, no cords, no hassle.

Using Revolar is Simple
Download the Free Revolar app. Then sync your device.
Simply by pressing a button, Revolar can let your loved ones know where you are and if you need help through customizable messages that include your live location. You can click once for a Check-in when you're home safe, twice for a Yellow Alert if you're uneasy and want a phone call, or three times for a Red Alert to request immediate help.
For both Yellow and Red types of alerts, your Revolar contacts will be notified via text and/or email that you have sent an alert, and they'll be provided with your live location until the alert is canceled.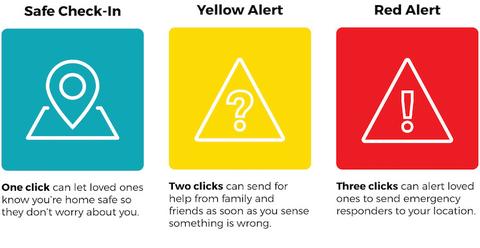 Revolar users and their designated contacts should define what actions the contacts should take in the event that they receive a Check-in, Yellow or Red Alert.
NEW FEATURES
How to use it
FREE STANDARD SHIPPING to the U.S and Canada
– 45-day money-back guarantee & 1-year limited warranty
– Revolar requires the use of a qualifying smartphone & the Revolar app.
– Works via Bluetooth® low energy technology within 30-50 feet of the synced    smartphone.
– Interested in donating Revolar wearables? Contact us.
– Dimensions – Height: 1.91.in, Width: 1.21 in, Depth: 0.57in