Safety isn't what we usually think about when first buying a swimming pool. Instead, we're more often thinking about all the fun we can have with our family and friends when using it. But a pool area can become a dangerous place relatively quickly, especially with smaller children.
This danger makes purchasing the right pool safety devices a must. It'll allow pool owners to have some peace of mind about having a swimming pool with children present. However, this sense of safety only comes from buying the best pool safety devices for toddlers.
Finding these high-quality options isn't always the easiest task. But if a pool owner considers the right factors, this entire buying process can become a breeze. Here's a few examples of what I mean by "the right factors":
Type of Pool Safety Devices: Buyers will need to know what equipment they're looking for before starting their respective searches. Do they want a pool fence, pool alarm, immersion pool alarm, or other devices?
Ease of Installation and Use: There's no point in choosing a device that has a complicated using or installation process. Buyers can easily avoid this issue by reading through the directions of each product before spending money on them.
Pool Size: Certain types of pool safety devices only work on specific-sized pools. Pool owners should measure their pools/pool area before choosing a fence or cover. Otherwise, it might leave certain areas unprotected.
Aside from these factors, I've also picked out ten high-quality pool safety devices. I chose each one based on their reputation for keeping toddlers safe and containing desirable features. You'll learn more about them within the following product reviews and buying guide.
Top 10 Pool Safety Device for Toddlers Reviews
1. WaterWarden WWF300 In-Ground Pool Fence
WaterWarden's WWF300 In-Ground Pool Fence keeps pool protection for toddlers relatively simple with its straightforward design. After all, it's a fence capable of restricting access to kids or pets with its durable construction.
I can't imagine any pet or child knocking this fence with its robust, UV-protected Meshylene fabric. It even has reinforced edges to prevent fraying, making it even more reliable. In fact, my pitbull even failed to take it down after running at the fence full-speed.
Buyers don't have to worry about a complicated installation process, either. WaterWarden supplies everything a person might need to get the job done. I was given instructions, drilling templates, hooks, hardware, and more for a problem-free installation.
The fence also isn't permanent with an easy removal process. I didn't have any issues opening my entire pool, thanks to its spring-loaded safety latch system. It allows for an adult to quickly remove sections or join them together whenever it's necessary.
Another exciting attribute was the two size choices for my fence. I chose from a 4' or 5' fence to ensure a perfect fit for my particular in-ground pool area. As a result, it becomes a lot more versatile than other available pool safety options.
However, the fence isn't the most visually appealing option. It does take away from my pool area's vibe and becomes a slight eyesore. But it's more of a preference issue rather than anything that could affect a child's or pet's safety.
Robust, durable construction made from UV-protected Meshylene fabric
Prevents fraying with reinforced edging
Simple DIY installation (all required tools included)
Easy removal with its spring-loaded safety latch system
Two size options for multiple applications (4' or 5')
Design could be more appealing
Overall, I'm not going to complain too much about the design not being visually appealing. It does the job of providing adequate swimming pool protection. Given this information, I can't ask for much else from my swimming pool safety equipment.
2. HENDUN Outdoor Pool Door Alarm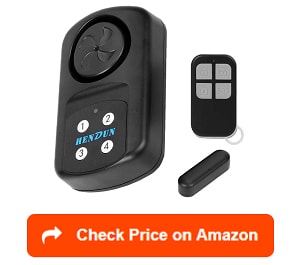 The HENDUN Outdoor Pool Door Alarm is one of the more affordable choices among pool safety products. I can't see how anyone would have trouble fitting it into their budget. But this low cost wouldn't matter much without valuable and convenient features.
Fortunately, this pool door alarm offers those features without much issue. It starts with a loud 140db alarm that won't have any problems alerting an adult. For instance, I was testing it out with a friend, and I heard this alarm going off farther than expected.
I also wouldn't worry too much about its durability. This pool alarm is made with a high-quality PVC housing and contains a water-resistant seal. In other words, it won't suffer adverse effects from being used outdoors.
The device's easy using process was another huge advantage. It comes with a remote control to turn it off/on from 49 ft away. I couldn't have been happier, as convenience tends to be an issue with swimming pools' safety devices.
Users will have a choice between three modes when utilizing it, as well. I can set it on an immediate alarm, doorbell, or 30-second alarm mode. I'd suggest the immediate alarm setting as it'll sound when a kid opens the pool area door/gate.
I was a little surprised by the included instructions, though. HENDUN certainly could've put a little more time into them when crafting this particular outdoor alarm kit. I wasn't the only one to notice them being unhelpful, either, as mentioned a few times in other reviews.
A more affordable option
Loud 140db alarm
Durable PVC housing and water-resistant seal
Remote control allows for easy operation
Equipped with three modes (immediate alarm, doorbell, or 30-second alarm)
Thankfully, I've installed my fair share of pool alarms, allowing for an effortless installation. But I could see how newbies or inexperienced users might have issues. In any case, the device did manage to perform admirably when compared with other pool safety supplies.
3. Lifebuoy Pool Alarm System
Versatility isn't a standard aspect associated with swimming safety equipment for adults or kids. But Lifebuoy's Pool Alarm System is different as this system can work in any pool, ranging from above-ground pools to spas.
It offers this versatility with its advanced design featuring Bluetooth compatibility. This system comes with a smartphone Bluetooth app that allows users to control the device. I can use it to adjust the alarm's sensitivity or increase/decrease the alarm sound.
As for the device itself, it's equipped with motion detector sensors. It'll lie inside my pool, and these sensors will trigger the alarm whenever a pet or child falls into the water. So it ends up being a very effective way of keeping my pool area danger-free.
Setting the system up is a relatively straightforward process, as well. It's a simple matter of attaching the unit poolside using the included kit. From there, it's all controlled by the Bluetooth app that has received rave reviews.
I was also impressed with this product's swim mode feature. It turns off the alarm whenever activated to allow for alarm-free swimming. I don't even have to turn it back on, either, as it'll automatically switch on after 10 minutes of no movement.
But this option is one of the more expensive pool safety systems. I wasn't entirely shocked by the cost because of its various impressive features. However, buyers will need to decide whether these attributes are worth the higher price tag.
Suitable for any pool
Bluetooth compatibility with smartphone app
Effective protection via motion detector sensors
Straightforward setup process with included attachment kit
Convenient swim mode feature
A higher-priced alarm system
Honestly, I'm never going to put a price point on pool safety for toddlers. This alarm system makes me feel more comfortable with my pool area being free of any dangerous situations. I can't express how much that manages to help with my anxiety.
4. PoolEye PE14 Above Ground Pool Immersion Alarm
Above-ground pools need pool safety protection as much as in-ground pools. PoolEye's PE14 Above Ground Pool Immersion Alarm represents a solid option for keeping rambunctious kids from entering them unexpectedly.
It offers this protection with an underwater motion sensor containing sub-surface wave detection. This description is a fancy way of saying it can detect objects coming into the water. Plus, it eliminates the effect of rain or wind to ensure fewer false alarms.
Once it does detect a kid falling into the pool, it emits an 85db siren. I can't imagine how anyone nearby won't hear it as this alarm was much louder than anticipated. I could easily hear it across the lawn with my music on full volume.
Installing was also a quick endeavor as it sets up right under the top ledge of steel wall pools. I had the entire process done in a few minutes with the included hardware. New pool owners shouldn't even have problems with this one.
The ability to adjust its sensitivity was another intriguing attribute. It has an adjustable sensitivity switch to offer this appealing level of control. Therefore, buyers can customize their experience of using this valuable pool alarm.
My only complaint about this above-ground pool alarm is users can't utilize it within New York. It doesn't meet their swimming pool safety guidelines. Honestly, I don't see why it wouldn't, but multiple New York buyers have mentioned this issue.
Effective underwater motion sensor with sub-surface wave detection
Produces fewer false alarms than other options
Loud 85db siren
Quick installation with included hardware
User-friendly, adjustable sensitivity switch
But people living outside New York shouldn't have any issues using this alarm. It's only brought me comfort and high-quality performance during my time using it. I can't imagine anyone else experiencing a different outcome with this immersion pool alarm.
5. PoolEye PE23 In Ground/Above Ground Immersion Pool Alarm
PoolEye's PE23 In Ground/Above Ground Immersion Pool Alarm has proven to be an effective tool for in-ground and above-ground pool owners. It has several qualities that have made it a favorite among people looking for pool safety devices.
An excellent starting point would be the device's underwater motion sensor. It has proven to be more than adequate at detecting disruptions within the water. Therefore, it has no issues alerting an adult when a child or pet enters the water.
The alerting process is a hard one to miss, as well. It produces an 85db alarm that should be easily heard from a distance by anyone nearby. I even had a dangerous situation occur when my cat got into the pool area. This alarm alerted me immediately and allowed me to help out my cat.
I'm also pleased with this product's in-home remote alarm. It allows me to hear the alarm inside my home when it might not be possible to hear outdoor noises. Due to this, I'm fully protected against and alerted about any pool area situation.
Users should love this product's easy installation process, too. I had the entire process done within 30 minutes with all the necessary hardware and directions.
Some customers did note this product has a problem with false alarms, though. It seems this model has a habit of going off unexpectedly or being a little too sensitive. But honestly, I haven't experienced a single issue with false activation when using the device.
Usable in above-ground or in-ground pools
Effective underwater motion sensor
85db alarm for effective alerts
Siren audible indoors with in-home remote alarm
Easy installation with instructions and supplied hardware
Overall, the false alarm issue shouldn't impact a buyer's final decision too much. It seems more like human error during the installation than anything wrong with the product itself. After all, it has done nothing but work well when I've tested it.
6. Blue Wave BWS330G In Ground Pool Safety Cover
The Blue Wave BWS330G In Ground Pool Safety Cover is well-equipped to meet any pool owner's swimming pool safety equipment checklist. Honestly, it has everything a person could want in an in-ground pool safety cover.
For instance, this cover has multi-seamed stitching within its construction. It's a vital aspect because it prevents wear and tear from occurring. As a result, I can envision this option lasting a lot longer than most kid safe pool covers.
It's also one of the most secure covers available for pool owners. Buyers should attribute this benefit to its drill and tamp style brass anchoring system. Due to this, the product's anchors should stay secured in concrete permanently without issue.
Another helpful feature is the cover's reinforced wear strips on its underside. These are crucial for preventing any tearing or fraying within its surface. Given this information, it'll end up lasting a lot longer than I usually expect from pool covers.
Moreover, the mesh panel design and stainless steel hardware complete its impressive build. Both these attributes contribute to keeping the cover protected against the elements. Plus, it prevents kids or pets from tampering with it.
Buyers will encounter one downside with this child proof pool cover, though. It has one of the more costly price tags within this particular marketplace. I was a little surprised when I first looked at how much it costs.
Resists wear and tear with multi-seamed stitching
Secure drill and tamp style brass anchoring system
Prevents fraying and tearing with reinforced wear strips
High-quality mesh panel design and stainless steel hardware
Solid protection against pet or kid tampering
A higher-price pool cover
However, I can't be too discouraged by this high price. I haven't found many other pool covers capable of matching its durability or performance. So it ended up being more than worth its initial asking price.
7. VINGLI In Ground Swimming Pool Fence
This next option, VINGLI's In Ground Swimming Pool Fence, has become a favorite for pool owners with kids. Its mesh fabric and aluminum construction has proven to be a formidable foe for even the most rambunctious kids.
For instance, VINGLI ensured this construction could withstand even thunderstorms. I have a hard time believing any dog or kid will get through it. Moreover, it offers longevity buyers can rely on to last more than a few years.
I was thrilled by this option's storability, as well. Users can roll it up for easy storage when they aren't using it, which is essential for my needs. I don't have a lot of unused storage area, so this quality ends up being a godsend.
Each user will also have a selection of five sizes, ranging from 4'x12' to 4'x108'. It provides this option with a much higher convenience level than other choices. As a result, buyers shouldn't have any issues finding a suitable variation for their needs.
A few other notable inclusions include all necessary hardware and anti-dust hole covers. Both of these attributes only further the appeal of this device. Overall, it'd be hard to find a more well-built pool fence.
On the downside, this item cannot be installed in grassy areas. It's best used on cement.
Durable, strong mesh fabric and aluminum construction
Easily rolls up for simple storage
Five sizes choices for various in-ground pool applications
All necessary hardware included
Promotes better performance with anti-dust hole covers
Luckily, I didn't need to worry about securing the fence on grass. So this one issue wasn't a problem for me. Instead, I was able to enjoy its many benefits and solid protection qualities.
8. Quality Pool Products LinerWorld In Ground Safety Cover
Pool safety covers don't get much more effective than Quality Pool Products' LinerWorld In Ground Safety Cover. This option will have no issues keeping out debris and unwanted critters while offering a secure construction.
Of course, a kid should never walk onto this pool cover. But if this incident does happen, its durable and tough mesh material should have no problem staying secure. In fact, multiple customers confirmed these findings within their reviews.
I was also pleased with the various size options offered by Quality Pool Products. Each buyer will have six choices to ensure they get a suitable fit for their in-ground pools. The 18'x36' option ended up suiting my needs to an absolute tee.
Furthermore, buyers can choose between two stylish colors. I found myself loving the hunter green option as it'll spice up my pool with a bit of nature vibe. Honestly, I couldn't have found a product better suited for meshing with my backyard.
The included 15-year limited warranty was another solid feature, as well. It'll help provide protection against factory defects. If there's any fault in the cover, the policy will ensure I have a way of getting a usable replacement.
One notable issue provided by this model is its time-consuming assembly. It doesn't mean the installation was complicated, though; it just took a significantly longer time to set up than other options.
Keeps out debris and unwanted animals
Tough, durable mesh construction
Six size options for multiple applications
Two stylish color choices
15-year limited warranty
All in all, the long assembly isn't a massive issue for me. It's not a problem because the process wasn't stressful; the instructions did a solid job laying out the correct steps. Plus, once I installed it, this child safe pool cover couldn't have performed better than it did.
9. WaterWarden WWN1224 In Ground Pool Net
Our final option, WaterWarden's WWN1224 In Ground Pool Net, is slightly different from the previous childproof pool covers. This product features a net design constructed from durable 100% polyethylene meant for long-term use.
Moreover, the net is treated with UV inhibitors to prevent damage from sun exposure. It's another reason why buyers should expect this option to last several years. Plus, WaterWarden ensured the net won't be affected by the pool's chlorine or other chemicals.
Its long-term performance isn't the only benefit, either. I was impressed by its versatility as users can trim the net's edges to fit it onto almost any in-ground pool. Therefore, it has a much larger customer base than I usually expect from pool safety kids-related devices.
WaterWarden includes every piece of hardware and binding materials with purchase, as well. It should offer a much easier installation than a user might initially envision. I certainly didn't have any trouble doing it myself within only half an hour.
It's also worth mentioning this model comes with a quick roll reel for easy storage. Given this information, I don't have to worry about finding a large place for it within my shed. This inclusion makes the entire usage process stress-free.
But I didn't see a mention of any warranty policy for this particular cover. It gave me a slight pause at first, but this model has proven to be a decent option. I only wish WaterWarden had provided one of these policies as I have a habit of breaking things.
Made with durable 100% polyethylene netting
Embedded with UV inhibitors to prevent sun damage
Unaffected by chlorine and other pool chemicals
Trimmable edges allow for fit onto almost any in-ground pool
Equipped with all hardware and binding materials
Quick roll reel for easy storage
Aside from the warranty issue, I have no complaints about this option. It does the job by providing solid protection for any toddler or pet. Honestly, I haven't had a single issue yet with its performance in my in-ground pool.
10. Safety Turtle ST500 Immersion Pool/Water Alarm Kit
Our first option, Safety Turtle's ST500 Immersion Pool/Water Alarm Kit, is one of the more kid-friendly devices on our entire list. It was explicitly designed to ensure a child's safety while having one of the more appealing designs.
For instance, this alarm kit comes with a children's wristband featuring a turtle design. It'll attach right onto a kid's wrist and offer a solid fit without providing any discomfort. My nephews didn't have a single complaint when wearing this pool alarm bracelet.
I can then rely on this wristband to be an excellent safety precaution, as well. It'll trigger the Safety Turtle 2.0 base alarm system when the wristband touches the water. This system has been effective, too, as I haven't even had a single event of a false alarm yet.
This option also works for pets with its included pet adapter. It'll connect right onto a dog's or cat's collar to ensure an owner knows when they enter the water. Therefore, it allows everyone to be protected by the same alarm system, from children to pets.
Setting up the alarm system wasn't difficult, either. It's a simple matter of plugging the alarm base somewhere within 200 feet of the pool. From there, I tested the turtle wristband to see whether it worked, and no issues presented themselves.
Some customers did note a few packaging issues with this kit. In these cases, this wearable pool alarm kit was missing certain pieces when it arrived. Luckily, I wasn't a customer who fell victim to these issues.
Kid-friendly design
Comfortable wristband with cute turtle design
Avoids false alarms with effective Safety Turtle 2.0 base alarm system
Suitable for pet usage with pet adapter
Easy plug-in and test setup process
I wouldn't be overly concerned about the packaging issues, though. Most customers seemed delighted by this product's performance. I certainly found myself falling into this category as it had no problems keeping my nephews and pets safe.
What to Look for When Buying Pool Safety Devices for Toddlers
Several considerations will determine what toddler pool safety devices are perfect for your situation. This can cause some buyers to stress when diving into this marketplace. But these following discussions of essential factors will provide the tools necessary to make your stress disappear.
Types of Pool Safety Devices
Pool safety devices happen to be a rather broad marketplace. In other words, there are various types of equipment that can help keep kids safe within the pool area. Here's a quick overview of the more popular options to provide a basis for your search.
Pool Door/Gate Alarms
Pool doors or gate alarms are a pool owner's first line of defense. These tools are built to prevent non-swimmers and young children from entering your pool. If activated, a piercing sound will emanate when someone opens the pool area's gate or door.
As a result, a parent would have more than enough time to intervene and stop the child. It ends up being a must-have piece of equipment for any pool owner with kids.
Swim Aids & Flotation Devices
Floatation devices or swim aids are vital devices to help kids learn the swimming process. They allow parents to help smaller children stay afloat. Such items offer a simple safety precaution to help non-swimmers who might feel uneasy in the water.
Of course, most people are familiar with these products and call them "floaties." But they still need a mention within this article as they're essential to the swimming process. They remain one of the safest ways to help a child learn how to swim.
Immersion Pool Alarms
If you aren't around, a water immersion pool alarm is the best line of defense. These devices have shown to be an effective tool for keeping children safe. They'll protect anyone who manages to get past your fence by alerting you of people trespassing.
The high-quality options use a combination of technologies designed to improve an alarm's ability to sense/trigger when someone's in the water and minimize false alarms. I'd recommend looking into the customer reviews for each immersion pool alarm to ensure their effectiveness.
Another crucial step is selecting an alarm designed for your pool's type. Most options will provide this information right in their product descriptions. Make sure to read through those resources before choosing an immersion pool alarm.
Personal Immersion Detectors
Personal immersion detectors are a little more specialized than a buyer might expect. They feature a special wristband that a child wears while within the pool area. It'll sound a loud alarm to one or more base stations whenever the child comes in contact with the water.
Given this information, it's a solid secondary security system to provide extra protection. It'll make sure you always know where a child's located within a pool area.
Floating Motion Sensors
Floating motion alarms and sensors are favorites among pool owners for several reasons. But it mostly boils down to them being inexpensive and usable in above or in-ground pools. These options are relatively effective because they use electronic signals to measure waves and displaced water.
As a result, they will detect when an object creates these displacements. The devices will then provide the necessary signal to whoever is watching the child. Obviously, these shouldn't be seen as a primary protection device, but they're a suitable secondary precautionary measure.
Pool Covers
Child safety pool covers are the simplest means of pool protection. You can expect them to cover the pool whenever it's not in use or during the off-season. It makes them inaccessible and eliminates the threat of a toddler jumping into the pool.
However, they do create the danger of a child walking onto them. It could lead to the cover collapse, causing another dangerous situation. Therefore, you should use a child safety cover for above ground pool or in ground pool in combination with other safety devices to ensure maximum safety.
Ease of Installation or Use
Any pool safety device should make using or installing them easy. Buying ones with complicated using/installation processes will only make your life more difficult. It's likely you'll end up not utilizing them at all.
I'd suggest researching both processes for each device before making a final decision. You can usually find directions for them within the manual or product description. Moreover, other customers will have plenty to say about these aspects within their product reviews.
Durability
Some devices won't be built with high-quality materials. Therefore, these options might be prone to performance issues, such as false alarms or picking up rust. I'd advise sticking with products made with weatherproof components, or these devices won't provide longevity.
Furthermore, it'll likely lead to requiring a replacement and spending more money. Nobody wants this outcome, so do the research and purchase durable equipment.
Cost
Pool safety supplies aren't going to be cheap. It's crucial to build a budget based on what you can afford and the types of equipment required. For instance, if you need automatic pool covers for child safety, it will be more expensive than only needing a standard pool cover.
Your budget should reflect those particular situations. From there, it can then be a valuable resource to help lessen the number of available choices. The entire process will indeed become a lot easier.
Pool Size
If you need a pool fence/cover or a similar device, the size of your pool will need consideration. It's not a smart move to purchase these products without measuring the pool's area. Otherwise, it might lead to one part of the pool area being unprotected.
Manufacturers will make this part easier by listing the measurements within the product description. So pay close attention to those areas on each cover or fence's ad page. From there, it shouldn't be challenging to choose one capable of protecting your pool.
How Do I Keep My Child Safe Around the Pool
Investing in swimming pools safety devices would be a solid start. But none of these products can be an adequate substitute for adult supervision. So please, never let a toddler or child around the pool without an adult present.
Furthermore, it's essential to keep your pool inaccessible when a parent isn't there. You don't want a toddler to wander out there and slip into the pool accidentally. Keeping the pool area locked up is an easy way to avoid a tragic accident.
Are Pool Alarms Effective
High-quality pool alarms are considered adequate, but with some caveats. These products can be prone to false alarms and losing sound quality with regular usage. It's why pool alarms shouldn't be the end-all for pool safety.
Instead, you should combine pool alarms with other safety equipment like fences or motion sensors. They end up being part of a solution rather than the entire solution. In this capacity, these alarms should not have any difficulty keeping your pool safe.
What Are Examples of Safety Equipment Around the Pool
As I've mentioned earlier, there are several types of pool safety equipment. You'll come across fences, motion sensors, alarms, and even floatation devices. These products should provide a parent with peace of mind about their kids and the pool.
But once again, none of these devices can replace adult supervision. So if your kids are going to use the pool, it's best to ensure an adult is watching over them. It's the easiest way to avoid any dangerous accidents.
If you liked the guides above, don't forget to check out the top-rated child proof door locks, and the trusted personal safety devices . What's more, there are many other trusted locks for your interest, such as bedroom door locks and homekit door locks.
Conclusion
You should now feel more comfortable choosing the best pool safety devices for toddlers. It shouldn't be too difficult to select the devices capable of keeping your kids safe. These devices might even be the ones I've talked about in this article.
But if a question or two does cross your mind, feel free to let us know in our comment section. I'd love to help out in any way possible. Thanks for reading!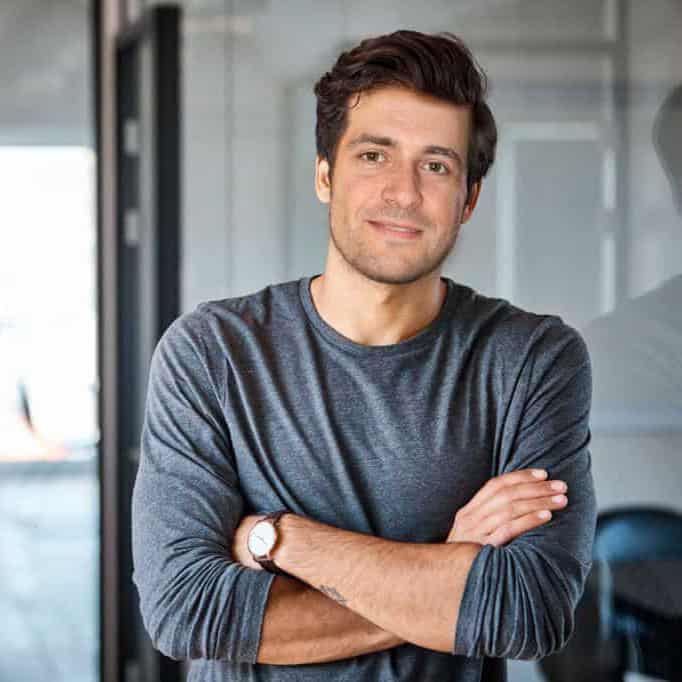 I am the last member to join Revolar and might be just the luckiest to work with dedicated people like Teddy and John. Our team has established a process where my only job is writing the best content to deliver incredible ideas and guides.