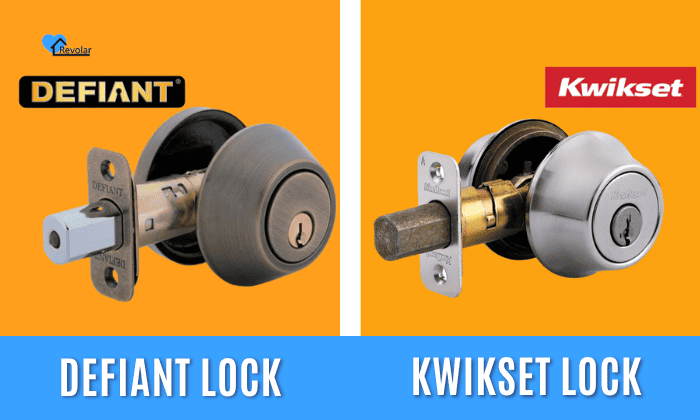 We all want to make sure our family is safe from intruders, and one way to do that is by getting the most secure home locks.
If you're considering getting locks from Deviant or Kwikset and are having a hard time deciding, then this comparative article on Defiant vs Kwikset might help you out.
Read on to answer your questions on – are Defiant locks any good and whether is Kwikset a good brand?
| | | |
| --- | --- | --- |
| SPECIFICS | DEFIANT | KWIKSET |
| Quality | Good-quality products | High-quality products with a reputation for innovation and durability |
| Design | Stylish, compact, and modern designs | Simple and straightforward |
| Lock Features | Limited | Extensive |
| Installation | Easy to install with basic hand tools | User-friendly set for easy installation |
| Product Range | Mostly door locks, hardware, deadbolts, handles, etc. | Extensive product range, including keyless entry systems, smart locks, and door locks. |
| Price | Budget-friendly | Higher-priced |
| Warranty | Lifetime | Limited |
Brief Background
1. About Defiant locks
Both Defiant and Kwikset are known to offer high-quality and reliable locks. However, between the two, Kwikset is a more popular brand.
If you tried searching for the Defiant locks website, you probably found nothing, because they don't have one. Even Defiant locks reviews are very limited. However, that doesn't mean they are low-quality.
But who makes Defiant locks? Defiant is manufactured by a Taiwanese company named Taiwan Fu Hsing Ind. Co Ltd. You'll find Defiant locks mostly at Home Depot due to their partnership.
Although they solely manufacture for Home Depot, you can still purchase Defiant locks from other retail stores. Below are the different Defiant residential locks available in the market.
Doorknobs
Single-sided and Double-sided Deadbolt
Keypad Locks
Defiant Lock Features:
3 spool security pins
Drill-resistant plate
Unlocking options: Keys, Wi-Fi, Bluetooth, and coded keypads
2. About Kwikset locks
Kwikset was founded by Karl Reinhard and Adolf Schoepe. They named their company Kwikset to put emphasis on their tubular lock design's ease of installation.
The company has been manufacturing residential door locks since 1946. It is a subsidiary of Hardware and Home Improvement, a company that supplies and manufactures locks, builder's hardware for homes, and more.
When it comes to Kwikset vs Defiant locks types, the former has more options and products to offer. Kwikset offers the following locks:
Deadbolts
Knobs
Electronic locks
Handlesets and Levers
Security Sets
Light Commercial Door Locks
Apart from those, they also offer parts and accessories.
Kwikset Lock Features:
Bump-proof and pick-resistant
Two-Factor Authentication
Auto-Lock
Remote Access
Defiant Locks vs Kwikset: Similarities and Differences
While they may be competing brands, they are similar in a lot of ways. Both companies share a similar goal. It is to offer the most secure door locks for homeowners.
Their target market is both residential customers. While Kwikset also offers some light commercial door locks, the majority of their locks are for residential use.
Both brands are also available in most major retail stores like Home Depot and other hardware stores. You can also purchase them online through Walmart, Amazon, eBay, and more.
Another similarity is their ease of installation. You don't need to hire a professional to do it for you. Many homeowners can easily install most of their locks on their own.
When it comes to customer support, customers can easily reach out to them for any inquiries regarding their products, installation guide, and more.
Kwikset customers can get support through their website, while Defiant customers may contact their customer service through Home Depot's website or by calling 1-877-ONE-LOCK.
Key differences between Defiant and Kwikset locks
1. Product Range and Quality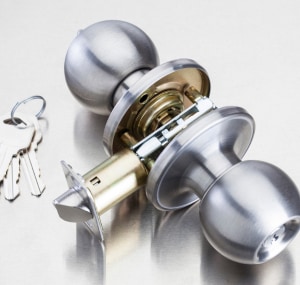 Defiant is a bit inferior to Kwikset when it comes to quality. This is because Kwikset uses more durable and better-quality materials than Defiant.
Furthermore, the smart lock products from Kwilset are of higher quality and compatibility with different automation systems. They also feature remote control for convenient use.
Meanwhile, Defiant is famous for its good quality and durable door locks, including levers, knobs, deadbolts, and more.
Regarding the keyless entry system, Kwilset has a better edge due to its technology and product development.
2. Product Design
Defiant offers a wider range of design options compared to Kwikset. From traditional to modern designs, you can find the right Defiant locks for your homes without ruining your home's aesthetics.
On the other hand, what most homeowners love about Kwikset is its simple design and smart features.
3. Security
In terms of security, Kwikset has more ANSI Grade 1 locks, meaning that some of their locks meet the requirements needed to pass the highest level of security.
Aside from that, their manufacturing techniques are far more advanced than Defiant. So, if you're looking for the most secure front door locks, Kwilset might be the better option.
Product Pros and Cons
1. Defiant products
Cost-effective door locks, parts, and security systems
Easy to install
Resistance to drilling attacks
Wider range of design/style options
Lifetime warranty
Can only provide minimum security
Limited smart lock options
Rekeying may require a professional locksmith
2. Kwikset products
A wide range of products, especially smart locks
More ANSI Grade 1 lock
Advanced and modern manufacturing techniques
Can be integrated with home automation systems
Easy to install
Fast and easy rekeying process with SmartKey rekey technology
More expensive
Limited warranty
Lesser design options
Popular Locks of Kwikset and Defiant
If you're interested in either of the two brands, here are some of their popular locks you might want to check out.
1. Defiant Satin Nickel deadbolt lock with night latch
This heavy-duty deadbolt lock is best used for exterior entry doors. It features a hold-back function and two-piece keys. With brass and steel construction, the product ensures better durability. Furthermore, it has a satin finish for a stylish look.
2. Defiant DL81 metal brass lock
The Defiant DL81 Metal Brass lock is a single-sided door lock suitable for interior doors. The best thing about this door lock is that it can fit all standard doors due to its adjustable backset.
It has an anti-pick and anti-drill design, ensuring intruders will have a hard time getting into your house.
3. Defiant electronic deadbolt
This rectangular Defiant Electronic Deadbolt is made of bronze, giving it a sleek look. It supports multiple entry codes and an adjustable delay.
Notably, the lock is easy to install, and all you need is four AA batteries. The keypad also lights up at night, so users can easily read the keypad even when it's dark.
4. Kwikset 665 contemporary keyed deadbolt
This double-sided deadbolt is available in four finishes (satin nickel, satin chrome, polished chrome, and Venetian bronze), so you can easily match it with your home's style.
The great thing about this Kwikset deadbolt is that it features SmartKey Security to ensure your home is always protected, even with the most advanced lock-picking or break-in methods.
5. Kwikset 260 SmartCode contemporary electronic deadbolt
The Kwikset 260 SmartCode Electronic Deadbolt is best used on exterior doors. It features SmartKey Security and is ANSI Grade 2 certified. The keypad light will automatically turn off after 10 seconds of inactivity.
6. Kwikset Halo touch fingerprint smartlock
This is one of the safest door locks available in the market. This smart lock can be accessed using Wi-Fi to allow users to monitor and control the lock remotely. It's compatible with Amazon Alexa and Google Assistant.
It allows access to up to 50 users or 100 fingerprints. You can even view its event history through its mobile app.
Secure door locks for homes with this Kwikset Halo, as it is ANSI Grade AAA certified.
Which is the Better Brand?
So, which lock is better? With all things considered, it's safe to say that Kwikset is a better choice when you're looking to secure door locks for homes.
With Kwikset's advanced technology and higher-quality materials, Defiant still has more room for improvement.
However, it's understandable since Kwikset has been in the industry for quite some time compared to Defiant.
Also, Defiant locks are cheaper, which makes them perfect for first-time homeowners looking for the safest front door locks.
Pricing and Installation
We already know that Defiant locks are more affordable than Kwikset. You can find Defiant locks for as low as $10 and at least $100 or more for their high-end locks. Kwikset's price, on the other hand, is around $10 to $400.
Some of the factors that influence lock prices are the following:
Locks also follow a grading system, with Grade 1 being considered the strongest door lock and Grade 3 locks providing the weakest and lowest security. This can also include the materials used for the locks.
The brand name can also affect the lock price. The more popular and well-established the brand is, the higher price you can expect. But remember that paying a higher price doesn't always equate to getting the safest lock.
The type of door lock is among the important factors. Traditional locks are significantly cheaper than electronic and smart locks.
Installation procedures for each brand
The installation process is fairly easy. All you need are some basic tools like a screwdriver. You don't necessarily need some special skills to install their locks.
Many might ask, can I install Defiant or Kwikset locks myself?
The answer is definitely! When you purchase their locks, they come with an easy-to-follow installation manual. If you need help installing your locks, contact Defiant and Kwikset's customer support to guide you.
Both brands ensured their locks were easy to install to help their customers save on installation costs.
Factors to Consider for Choosing the Right Door Lock
Before you go lock shopping, there are some things you need to consider first to ensure that you get the best locks for your homes.
Budget: Set a budget you're willing to spend on your locks. Remember that smart locks are more expensive, so prepare to spend more money if you prefer smart locks.
Type of Lock: Decide which lock you wish to install on your homes and where you plan to place the locks. If it's for your front door, you would want to consider a smart lock or at least choose a double-cylinder lock.
Lock Grade: For maximum security, choose ANSI Grade 1 certified locks.
Frequently Asked Questions
Can Kwikset locks be rekeyed to Defiant?
Yes, since Kwikset and Defiant have a similar keyway. This means that a Kwikset key can fit a Defiant lock.
Can Defiant keys be copied?
You can bring your Defiant keys to a locksmith, and they can make a copy for you. If they ask you for your Defiant key number, lookup the serial code on your Defiant key.
How do Defiant and Kwikset compare to other top lock brands in the market? (vs Schlage locks)
There is no doubt that Defiant and Kwikset have proven to be one of the best locks in the market.
However, suppose we try to compare them to other top brands such as Schlage. In that case, Defiant still has a long way to go, particularly with the quality, security, and features of their locks.
Kwikset, on the other hand, is not far behind Schlage. In fact, both brands have almost the same quality, grade lock, and features. Furthermore, Kwikset has a SmartKey rekey technology that Schlage and other lock brands lack.
Conclusion
Both brands surely have pros and cons, and it's really up to you which brand you think is a better choice for your needs.
While most may agree that Kwikset is the best for them, it may not be the case for you, especially if you're only looking for a basic security system for your home.
Hope this article on Defiant vs Kwikset has helped you pick a Kwikset lock or Defiant lock to add more security to your home.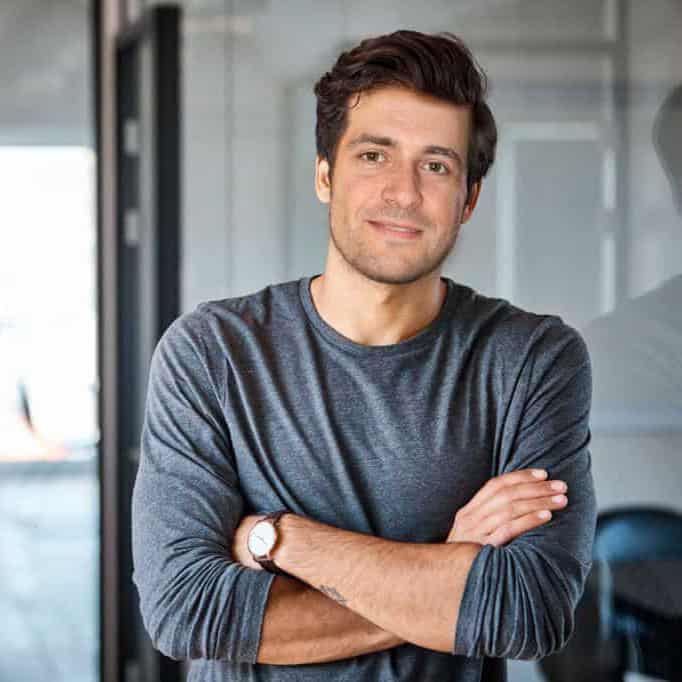 I am the last member to join Revolar and might be just the luckiest to work with dedicated people like Teddy and John. Our team has established a process where my only job is writing the best content to deliver incredible ideas and guides.