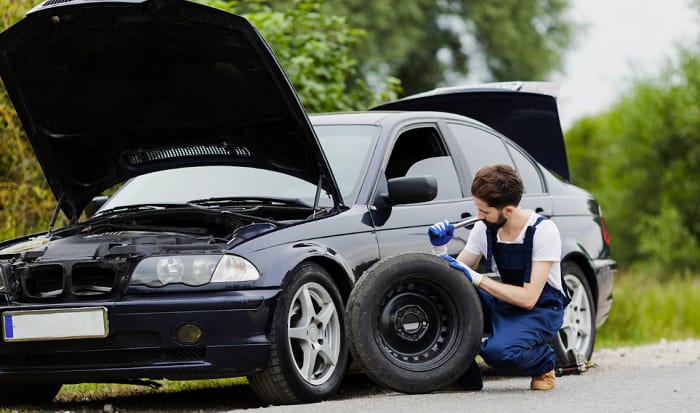 A lot of things happen on the road, like car problems. And one of the most common car problems on the road, aside from bumpers, is a flat tire or damaged tire. All cars and models are not immune to this.
Now, you just need to take the spare tire out. But what if you cannot remove it because you forgot its lock key? What are you gonna do? Fret not, continue reading to know how to remove spare tire lock without key. Step-by-step guide on how to remove spare tire without lock key
Is it possible to release a spare tire without the key? Yes, it is doable with the wheel lock breaker.
Moreover, this article will teach you the different ways that you could do when you encounter this problem. It's applicable to multiple vehicles, as I have tried them on the Toyota Corolla and some Ford cars.
What You Need Tool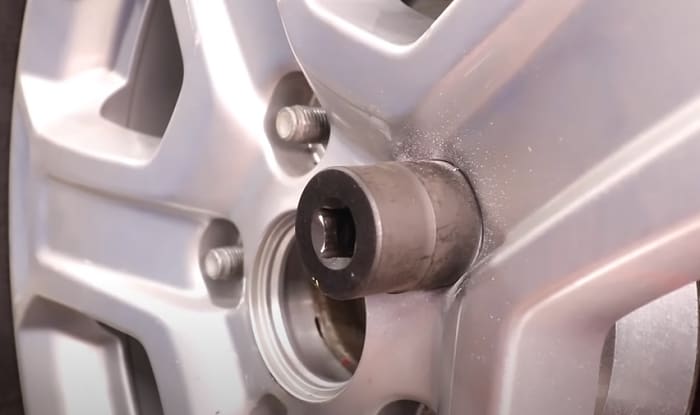 To get a spare tire down without the tool is pretty much impossible, so make sure you have these tools ready:
Socket set
6-in-1 Screwdriver
Hammer
Spoon tire iron
Wrench
Detailed Steps
Step 1: Have the emergency parking brake on
If you need your spare tire and you forgot your Ford spare tire lock key, MCgard spare tire key, or any spare tire lock key, proceed with the "creative" unlocking.
But before unlocking a spare tire, prioritize parking on a flat surface or area.
In addition, make sure that your emergency brake is on so it will not roll. You can employ blocks to the tires to further secure your car.
Step 2: Make a quick clean of the wheel lock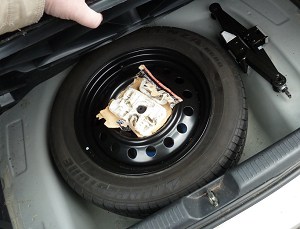 Have a quick clean of your car's spare wheel. Dusting it quickly will let you eliminate the debris that lingers on it.
After all, this debris might inconvenience you when you try to remove your spare tire, as it might get in the way while you try to fit the lock to your socket.
Step 3: Secure it to the socket
Find the channel where you can release your spare tire by looking for the small hole. Once you have found the hole, find the socket that will fit your lock.
For most parts, a 12-point socket will be ideal as it is better for biting due to the extra "teeth," but in some models like those of the Ford F350 and Ford F150, a 14mm socket will be better.
Regardless of the socket you will use, make sure that they barely fit the wheel locks because if they are loose, they will only revolve around the socket.
Step 4: Smash it.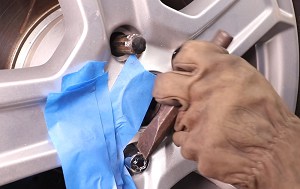 Once you have the sockets, proceed with the wheel lock lug nut removal. Attach the sockets you used to extenders depending on how many you need to reach the locking device or remove wheel lock nuts. You can also use a wheel lock.
Afterward, drive the socket to the lock by using a hammer. In doing this, use percussive force.
Start with gentle taps followed by more forceful taps until you secure the lock to your socket.
Step 5: Unscrew the socket
Now, you can use the wrench (preferably the long one) to take the socket off. Start by turning left to loosen it, then place the unscrewed socket on the side.
Step 6: Take the wheel lock off
Now, as the wheel lock is still on the socket when you take the whole thing off, you will need to take it out.
You can do so by placing a screwdriver onto the head (with a square opening) of the socket, then using the hammer to hit the screwdriver.
With several hits, you can take the wheel lock off easily. And that's how you remove a locking lug nut without the key.
Step 7: Tighten the new wheel nut
All left to do is use your prepared wheel nut to tighten the spare tire onto your vehicle.
You can do so by hand along with the tire iron, to secure the nut in place.
Frequently Asked Questions
How do you open a locking lug nut without the key?
If you do not have the key, what you can do to remove a locking lug nut is to use the tools available to you, like a socket, wrench, and hammer.
Check this video to see how to pry the lug of from the Ford F250 spare tire hoist, and other types of Ford trucks:
What can you do if you lose your wheel lock key?
If you are not interested in knowing how to remove a spare tire without a key, you can always opt to buy a new key though it is quite expensive.
The replacement wheel lock key cost will cost you $20 to $120 alone per set. If you lost your key, you need to call your dealer and manufacturer to have a new one.
Do all wheel locks have the same key?
No, wheel locks have different keys. Each set has its safety measures against criminals who might steal your wheels.
Where is the Dodge Ram spare tire key location?
You can find the Dodge Ram model 1500's spare tire in the vehicle's truck bed. If you have in hand a wheel wrench and a jack extension tube, you can take it off easily.
Conclusion
As much as we want to avoid unfortunate situations, they are sometimes unavoidable, and we have to deal with them. And some of these problems are road problems like flat cars and losing the spare tire lock key, making it unable to take off spare tire.
If you remember to know a new key, then good. But what if not? Knowing this, learning the trick, and knowing how to remove spare tire lock without key will not harm.
Read more: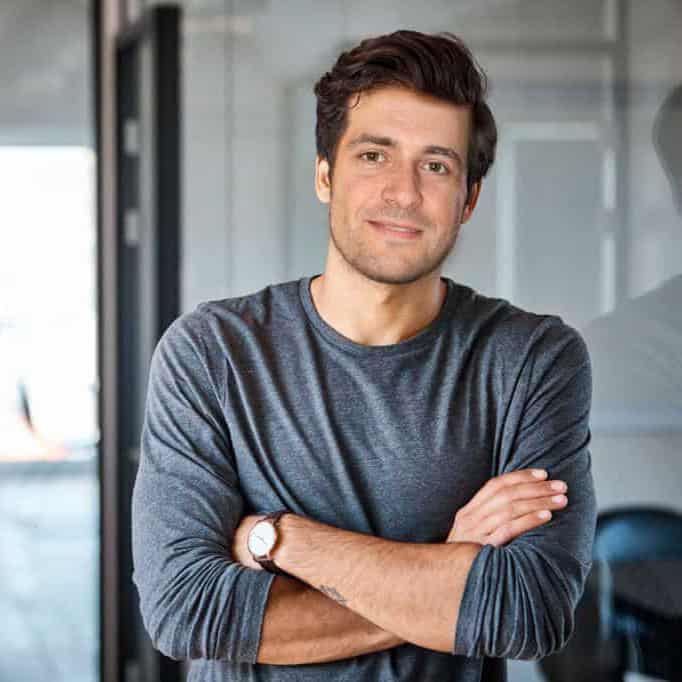 I am the last member to join Revolar and might be just the luckiest to work with dedicated people like Teddy and John. Our team has established a process where my only job is writing the best content to deliver incredible ideas and guides.