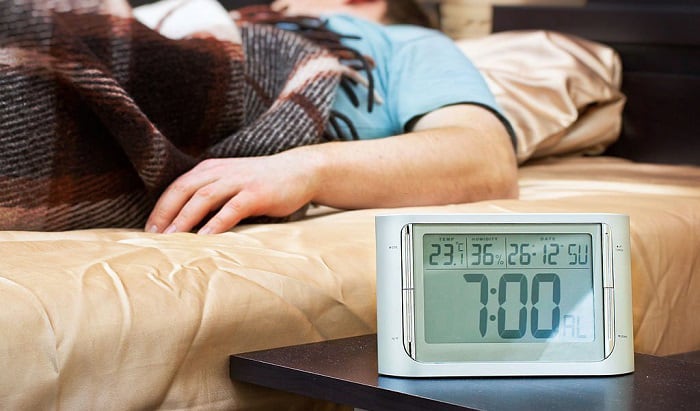 Atomic alarm clocks are handy devices to have inside your home or when traveling. These products ensure users know the exact time within their specific time zones. So you'll never have to worry about them being a minute or two off when they're working correctly.
But people often have issues finding the best atomic alarm clock for their needs. After all, these products are a bit more complicated than people expect, so it becomes difficult to separate what makes one high-quality and others subpar.
However, I intend to solve these issues with a detailed buying guide. It'll discuss every crucial buying factor to help make this process easy. Here's a little preview to offer an idea of what to expect:
Time Zones: Most atomic clock alarms are designed and programmed for particular locations or time zones. So buyers will need to ensure their selected option works in their time zone.
Mount Style: Atomic clocks are varied in their mounting style. Older models have wall mounts, while those with a modern design have bedside or desktop mounts.
Display: The top-rated atomic alarm clocks will have a readable display. Users shouldn't have to squint when reading the time and additional info. Some options will even include backlights to help out in low-light conditions.
I'll also provide 11 product reviews of my favorite atomic alarm clocks. These discussions will provide a solid starting point for your search. Make sure to check out the buying guide after the reviews for more shopping tips also.
Top 11 Atomic Alarm Clock Reviews
1. MARATHON CL030036BK Atomic Alarm Clock
Travel atomic alarm clocks don't get much better than MARATHON's CL030036BK model. Its compact size fits right into a suitcase or bag without issue for easy transporting when traveling.
As a frequent traveler, it's an ideal option to have on the road. I never have to worry about it not fitting in my luggage or having the wrong time within a particular location. After all, it can work within six time zones (Eastern, Central, Mountain, Pacific, Atlantic, and Newfoundland).
The clock's performance is rather convenient, as well. It comes with a built-in auto night light feature, so I can easily see within low-light conditions. Honestly, my eyesight is horrendous, so any help within this area is much appreciated.
Buyers can look at its practical language settings as another massive benefit. Each user can set it to English, Spanish, German, French, or Italian. Therefore, this atomic alarm clock has a much larger customer base than many other choices.
I can't go further without mentioning its easy using process, either. This product didn't cause me any frustration or problems when setting the alarm based on my preferences. It wasn't even tricky to switch any settings afterward.
But it was a little discouraging to see this product didn't include holes for wall mounting. It seems like a slight misstep by this brand as they could've made the clock even more convenient.
Compact size for easy transport
Usable in six times zones
Excellent in low-light conditions with a built-in auto night light feature
Offers five languages for practical use
Easy to use and switch alarm settings
No holes included for wall mounting
Overall, I couldn't ask for anything more from a travel atomic alarm clock. Its compact size and ability to work in multiple time zones fit my needs to a tee.
2. Sharp 8541847930 Atomic Alarm Clock
Sharp's 8541847930 Desktop Atomic Digital Alarm Clock does everything a person could want from a digital atomic clock with alarm capabilities. For instance, it provides the exact time via its built-in receiver that syncs automatically with the WWVB radio broadcast.
As a result, I never have to worry about this clock being too fast or slow. It's not a feeling that I'm used to having with most alarm clocks. In fact, this one hasn't had a single issue with incorrect time, making sure I'm never late for appointments.
I was also delighted by this product's convenient mounting choices. Each user can choose between mounting the digital alarm clock on their wall or placing it on their night table by pulling out its back stand. I went with the nightstand option as it fits my room much better.
This Sharp atomic alarm clock also comes with a large, readable display. I didn't even have trouble reading it from across my bedroom, which is a miracle. Moreover, it keeps me apprised of the time, indoor temperature, day of the week and offers a calendar.
It's even readable in low-light conditions with its easy-to-use backlight. If I ever need to use it, I just hit the big snooze button on this product's top portion. Lastly, I must show some love to this product's alarm as it's loud and wakes me up without issue.
But this atomic alarm clock isn't a perfect digital alarm clock. The clock's setup instructions aren't beneficial, as multiple customers mentioned them being unhelpful.
Syncs automatically with WWVB radio broadcast via a built-in receiver
Two convenient mounting choices (wall or night table use)
Large, readable display with temperature, week day, and a calendar
Easy to use backlight via a top-placed snooze button
Ideal for heavy sleepers with a loud, effective alarm
Subpar setup instructions
Thankfully, I didn't need to use the setup instructions when utilizing this alarm clock. I was able to rely on my past experiences with atomic clock radios. So I ended up having nothing but a positive encounter with this digital alarm clock.
3. WallarGe Atomic Alarm Clock
Our next option, WallarGe's Atomic Alarm Clock, has become a favorite among the senior community. After all, its simple design and large display are ideally suited to help older people operate it without issue. I certainly found myself loving these qualities, as well.
The product's easy operation only becomes more apparent with its included AA batteries. In other words, there are no wires or other nuisances to deal with when using this device. I put the batteries into place, and it was ready for use.
Users will also love its performance versatility. It can function within four time zones, so it's an excellent travel companion to have on the road. Moreover, the product doesn't have any issues fitting into luggage.
As for its performance, this displays multiple pieces of information accurately. It'll tell me the date, indoor humidity, time, and indoor temperature without me needing to squint. Plus, the alarm capabilities are more than adequate at waking me up whenever needed.
Buyers shouldn't overlook its two available hour formats, either. It's another way to customize the experience with this device by selecting between a 12-hour or 24-hour format.
However, I did find it disappointing to see this clock didn't come with a backlight. It makes the device harder to see in dark conditions than other atomic time alarm clocks. A few other buyers found themselves having similar issues, noting them in their verified customer reviews.
Ideal for seniors with a simple design and large display
Easy operation with included AA batteries
Usable within four time zones and small enough to fit in luggage
Accurately displays date, time, indoor temperature, and indoor humidity
Effective alarm capabilities
Two selectable hour formats for convenience (12-hour or 24-hour)
But I'm not going to complain too much about the lack of a backlight. This product's other benefits more than make up for this one weakness. In the end, it has managed to meet my expectations.
4. La Crosse Technology 617-1485B Atomic Alarm Clock
The La Crosse Technology 617-1485B Atomic Clock Alarm Clock doesn't have many competitors when it comes to features. This product is easily among the most advanced atomic digital alarm clocks available for buyers.
One of the main reasons for this is its self-setting time and date design. In other words, this model will be ready to go from the moment it's plugged into an outlet. It'll even automatically reset to the correct time during Daylight Saving Time without any issues.
I found myself impressed with its multi-color LED display, as well. It makes the product much easier to read than most other auto set alarm clocks. In fact, I even gave one to my grandpa, who had no issues reading it himself.
Moreover, this alarm clock comes with adjustable brightness and backlight settings. It makes creating the perfect sleeping environment much easier than I expected. Plus, there's nothing complicated about getting it to the ideal alarm setting.
I was also thrilled by the amount of information located on its display. It has multiple icons depicting the moon phases, a battery indicator, and WWVB connection. In addition, this automatic alarm clock keeps users apprised of the humidity and indoor temperature accurately.
Lastly, it has a built-in USB port to charge mobile devices without issue. It has done wonders for keeping my nightstand from being cluttered with wires.
But there's one downside to these excellent features. Sadly, this alarm clock is one of the more expensive options on our entire list. So buyers will need to decide whether they feel the more advanced design is worth the heightened price.
Self-setting time and date with automatic Daylight Saving Time reset
Easy to read, multi-color LED display
Adjustable brightness and backlight settings for perfect sleep environment
Multiple display icons (moon phases, WWVB connection, and battery indicator)
Displays indoor temperature and humidity accurately
Built-in USB port for charging mobile devices
In my case, I don't have any doubts. It's an easy contender for the top-rated atomic clock for my particular needs. So why wouldn't I spend a little extra?
5. Sharp Atomic Digital Dual Alarm Clock
It's hard not to get a little excited by Sharp's Atomic Digital Dual Alarm Clock list of amazing features. For instance, I adore its dual alarm capabilities as it allows me to set up multiple alarms (two) simultaneously.
Due to this, I no longer have to share one alarm with my partner, who wakes up earlier. I can stay in bed and rest until the time arises when I feel comfortable waking up. It's a nice change of pace from what I experience with other atomic or satellite alarm clock devices.
Setting up the alarm isn't difficult, either, as it's controlled by a switch on the product's top. I didn't even have issues with it, which should give any buyer complete confidence. Honestly, I could see it being perfect for both kids and seniors due to this hassle-free setup.
I also found myself seeing the atomic alarm clock large display as a benefit. It's an easy-to-read LCD screen that provides the time, date, and day. Plus, I know the info is accurate as this clock syncs with the WWVB broadcast from Fort Collins, Colorado.
Users should pay attention to its built-in battery backup, as well. It'll let them retain usage of this alarm clock during power outages and blackouts.
But some customers did note that it remained too bright even on its lowest setting. I didn't have much issue with this aspect because lights don't affect my sleeping. However, I could see how it might be annoying to other people.
Sets two alarms simultaneously with dual alarm capabilities
Effortless switch-based setup for alarm settings
Large LCD screen displaying date, time, and day of the week
Accurate, automatic sync with WWVB radio broadcast
Built-in battery backup for power outages or blackouts
Too bright on its lowest setting
Despite the brightness issue, this atomic alarm clock with battery backup more than met my needs. Its dual alarm capabilities alone make it worth buying for me. But I could imagine another buyer who's a sensitive sleeper feeling different.
6. AcuRite 13131 Atomic Alarm Clock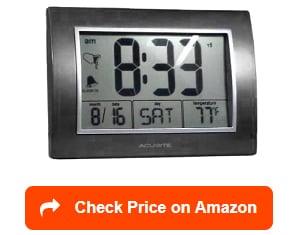 AcuRite's 13131 Atomic Alarm Clock stands out from most options with its extra-large LCD screen displaying the date, time, and other standard information. I think nearsighted people will have no issues seeing it from across the room.
This Acurite atomic alarm clock is unique because it also shows users indoor temperature readings. So if I'm selecting my clothes for the day, I can simply look right at my alarm clock to see whether I need to bundle up or not.
As a result, this alarm clock has turned into a practical addition to my life. Its usefulness doesn't stop there, though, as the device offers a significant amount of versatility. In fact, it can provide the correct time and other information in four different time zones.
The device will even automatically adjust for Daylight Saving Time without me needing to remember. Therefore, I don't have to rely on my forgetful mind like with other table stand alarm clocks. It has been nice to get rid of that burden.
I should also mention that this clock is convenient. It has a programmable alarm with a loud effective beeping sound for a timely wake-up process. This Acurite atomic alarm clock comes with a bright blue backlight, too, for excellent nighttime viewing.
I did find it a bit surprising to see AcuRite didn't include batteries, though. It'll end up becoming another expense that a buyer will need to consider.
Extra-large LCD screen (date, time, etc)
Records indoor temperature, useful for selecting clothes
Provides the accurate time in four time zones
Automatically updates for Daylight Saving Time
Programmable alarm with a loud, adequate beeping sound
Equipped with a bright blue backlight for nighttime viewing
Batteries aren't included
However, I won't complain too much about the lack of included batteries. I can easily bulk buy them at a local gas station without issue. This product's benefits certainly outweigh its faults from my perspective.
7. La Crosse Technology 513-1417CH-INT Atomic Digital Clock
One of the more versatile options would be La Crosse's 513-1417CH-INT Atomic Digital Clock. It provides users with seven time zone settings, covering each one found within the United States. Therefore, it can be a helpful travel buddy.
I was also impressed with its modern, stylish cherry-wood-colored design. It shouldn't have issues meshing with any decor found inside a person's bedroom. In other words, it looks much better than what I usually expect from these devices.
This device's LCD screen isn't anything to overlook, either. It's filled with accurate hour and minute information shown in 2.1-inch digits for easy reading. In addition, it has every piece of standard info (like moon phase) that a person would expect from an atomic clock alarm.
Users will have a bit of choice over how to utilize it, as well. It's both wall-mountable and can be placed on a bedside table via its built-in leg stand. In my case, I went with using the leg stand as it was more practical for my bedroom setup.
As for the product's alarm capabilities, this option offers a loud crescendo alarm volume. It has had no issue waking both my partner and me whenever needed. Plus, it comes with a 10-minute snooze button if I need a little extra shuteye before starting my day.
A few customers did note that it had issues getting the outdoor temperature accurate. Honestly, I didn't have any problems with mine. But this issue is still worth keeping an eye on for buyers considering this atomic wall clock with indoor/outdoor temperature readings.
Modern, stylish cherry-wood colored design
LCD screen displays large time digits and other standard information
Mountable onto wall or tabletop (built-in leg stand)
Loud crescendo alarm setting
10-minute snooze button
Outdoor temperature isn't always accurate
All in all, this La Crosse digital wall clock does a solid job outpacing most other clocks with alarms. I did not have a single issue with its performance or overall design.
8. BALDR Atomic Digital Alarm Clock
This next alarm clock, BALDR's Atomic Digital Alarm Clock, manages to make our lives much easier by keeping its setup process simple. Users only need to select their time zone setting, power the clock, and the device will automatically adjust.
Once fully set up, the device offers many intriguing features. This product's built-in alarm with its 5-minute snooze button and nightlight is an excellent example. After all, I can use it to help cultivate a better sleeping environment while ensuring I have a usable light when needed.
I was also thrilled with this product having four adjustable backlight brightness levels. It's another aspect capable of helping me create a more comfy sleeping area. Moreover, it's easy to switch through them with the provided dimmer.
The device's built-in backup battery was another massive standout feature. It'll allow buyers to utilize this device during power outages or blackouts. Therefore, I'll never be without a way to access the time, date, and alarm capabilities.
Each user will also have a selection between two stylish color choices (black or white). I found myself leaning toward the black design as it better fit my bedroom decor. But I can't see why anyone wouldn't love having the white option for their home.
As for its flaws, the clock's LCD display is difficult to read from a straight-on perspective. I wasn't the only one to notice this issue, either. A few other buyers complained about it within their verified customer reviews.
Easy setup with selectable time zone settings and auto-adjust
Built-in alarm with 5-minute snooze button/nightlight
Four adjustable backlight brightness levels via dimmer
Backup battery for power outage and blackout usage
Two stylish color choices (black or white)
Hard to read LCD display straight on
But I was too delighted with its other features to care much about the LCD display. Honestly, this digital alarm clock's easy setup and overall performance were a godsend.
9. AcuRite 13024 Atomic Dual Alarm Clock
The AcuRite 13024 Atomic Dual Alarm Clock is one of our most advanced options. In fact, this clock alarm has several features that'll get any buyer excited about buying it. One of the primary examples would have to be its USB charging port.
I can't express how much easier its charging port has made my life since buying the device. It allows me to charge any compatible phone using it, saving me an electrical outlet. Plus, it lessens the wires behind the nightstand that my cat loves to attack at night.
This product also has an excellent multi-colored display. It makes the clock alarm a lot more readable and less confusing to anyone using it. Multiple buyers alluded to this aspect as a massive positive in their verified customer reviews.
As for its performance quality, this device more than excels. It displays precise information with split-second accuracy on its screen without issue. I've never seen it show an incorrect time, date, or indoor temperature.
Other notable features include a dual alarm system, a practical backup battery, and a 1-year warranty for buyer protection. These inclusions only further prove AcuRite did its best to meet every customer's need with this alarm clock.
I do think this electric atomic alarm clock could stand to offer a louder alarm, though. Heavier sleepers seem to ignore it without much trouble. So buyers who fall into the heavy sleeper category might need to
look at other atomic dual alarm clocks
.
USB charging port for charging other devices
Multi-colored display for easy reading
Displays precise info with split-second accuracy (time, date, etc.)
Atomic dual alarm clock radio battery backup
1-year warranty for buyer protection
The alarm could be louder
But thankfully, I don't fall into this category. The device managed to wake me up whenever needed with a gentle alarm. I couldn't ask for much else from my preferred alarm clock.
10. Newentor Q6 Atomic Projection Alarm Clock
Buyers have become enamored with the Newentor's Q6 Atomic Projection Alarm Clock for a simple reason. It's one of the more unique options available within this marketplace. This distinction comes from its projection capabilities that most atomic clock alarms don't offer.
In detail, this device can project the time and temperature onto my ceiling for easy viewing. It might not seem a handy quality, but it offers a much better sleep experience. For instance, I no longer have to roll over at night, half-asleep to see the time.
The projection itself doesn't have to be on a ceiling, either. Each user can control it with the multiple projection angles and brightness levels available. It makes the entire device a lot more customizable than I initially anticipated.
Aside from its thrilling projection capabilities, I was delighted with its dual alarm system. There's nothing better than never having to rely on another person's alarm. It also has an impressive ability to monitor indoor/outdoor temperatures via wireless sensors.
The product will even forecast future weather conditions based on its sensors' findings. It'll then show this info along with its accurately synced time and date on the display screen. Furthermore, it offers seven time zone settings to ensure almost anyone within the US can use it.
It was a little disappointing to see this atomic alarm clock with projection didn't have instructions. I could imagine people who don't have experience setting up these devices having issues. My thoughts were backed up by more than one customer in this product's review section.
Projects time and temperature onto the ceiling for easy viewing
Adjustable projection angles and brightness
Set alarms simultaneously with dual alarm capabilities
Monitors indoor/outdoor temperatures and forecasts future weather conditions
Accurately syncs time and date via seven selectable time zone settings
Aside from the lack of instructions, I don't have another bad thing to say about the clock. I can't imagine anyone who manages to set it up being disappointed with its performance.
11. Forestime Atomic Digital Wall Clock
Our final option, Forestime Atomic Digital Wall Clock, earns its way onto this list by offering a beneficial combo of longevity and quality performance. For instance, it has a high-quality plastic construction that can withstand even the clumsiest person.
I've tested this aspect on numerous occasions by dropping it by accident. Thankfully, it has managed to withstand these encounters without any damage. It shouldn't have any trouble remaining usable for a long time.
As for its performance quality, I love how this model automatically adjusts for a user's time zone and Daylight Savings Time. I didn't have to go through several settings and do it manually like other options. It makes the entire process a lot more hassle-free and straightforward.
The product's wireless sensor was another intriguing aspect. After all, it allows this clock alarm to monitor indoor and outdoor temperature accurately. It's just a simple matter of setting up the sensor within 300 feet of this device.
I also didn't have any issues getting this product ready for use. The clock runs off 2 AA batteries (not included), making it a travel alarm clock. If these features weren't enough to sell a buyer, it has a convenient alarm with a 5-minute snooze function.
But Forestime didn't include a backlight on this product, which I think is a misstep. It makes the clock a little less convenient when working in darker settings.
Durable, high-quality plastic construction
Automatically adjusts to time zone and Daylight Savings Time
Monitors indoor/outdoor temperatures with included 300ft wireless sensor
Easy setup with battery-operated design (2 AA batteries), excellent for travel
Convenient alarm with 5-minute snooze function
It doesn't include a backlight
However, I can't deny how well the clock performs in the other crucial areas. It manages to meet all of my different needs with great ease. So I've learned to live without a backlight as I can use my phone when needed.
What to Look for When Buying Atomic Alarm Clocks
Buying atomic alarm clocks doesn't need to be a time-consuming process. It's actually a simple one with the proper knowledge of the essential buying factors. We'll discuss each of them below to ensure you don't have any trouble finding the perfect option.
Your Time Zone
Many atomic clocks are built and designed to work in specific geological locations. In the United States, there are six time zones to consider when buying these clocks. I suggest choosing an option that can work in several to cover your bases, especially if you intend on traveling.
Thankfully, manufacturers don't make finding this information difficult. Most atomic alarm clocks will have suitable time zones written in their product description. Make sure to check it out before spending any money.
Otherwise, you might choose an atomic clock that doesn't work in your time zone. It would end up being a colossal waste of money and time. I also must mention that these devices work off radio signals, so specific locations could struggle to pick them up.
Anyone living within such locations should look at a different type of alarm clock. After all, using an atomic clock in any secluded place can be extremely frustrating and challenging.
Mount Style
Atomic clock alarms offer a bit of variety concerning their available mounts. The traditional, more aged options will usually come with a wall mount. Some buyers still find these mounts, such as the popular Seiko atomic alarm clock options, preferable over the modern ones.
I mean, it's not too shocking as the wall mount does save space. But the ones with a modern design offer a more practical approach, such as the bedside or desktop mounts. Both options are helpful and convenient in ways that those older wall mounts can't match.
Display
Each atomic clock alarm will have a display screen where you can read the time and other crucial information. As a result, it would be helpful if you could read what it's showing from a distance without squinting.
You can learn a lot about each clock's display from verified customer reviews. Nothing frustrates clock owners more than buying one without a readable display. Honestly, it defeats the purpose of the clock's entire existence.
Many atomic clocks will have a backlight to help within low-light conditions, as well. But some manufacturers make it a little too bright, so it serves as a distraction. I'd suggest choosing one that allows users to adjust the backlight's display brightness without much trouble.
Placement
Buyers will need to think about where their new alarm clock can fit inside their rooms. Atomic clocks function best near a window, so that's always a good starting point. It provides the best signal to let these devices work more effectively.
Of course, the product's ability to mesh with the window's decor will be a factor. But if it's not an issue, you'll have more options to choose from.
Cost
Atomic alarm clocks will have various levels of price tags. Therefore, building a budget based on your specific needs is essential. For instance, a person who wants an alarm clock radio with battery backup capabilities will have to spend more money.
A buyer's budget must reflect any price increases of their required features. It's the only way to ensure their budgets remain realistic. Once these resources are constructed accurately, they can help by reducing the available options significantly.
What Is the Main Disadvantage of Using Radio Atomic Clocks
Radio atomic clocks have a disadvantage when it comes to geographic restrictions. These devices require being in specific locations to work effectively, in simpler terms. So buyers need to prepare by choosing options suitable for their areas.
Otherwise, the product becomes rather useless. I should also mention that none of these devices will work well in Africa or Australia, as these areas don't have time signal radio stations. So people within these areas should look at other alarm clocks.
How Often Does the Atomic Clock Send a Signal
The signal will be sent continuously to ensure your alarm clock remains effective. The product won't be reliable if the signal doesn't get constantly sent. There wouldn't be much of a point for people to buy them.
Where Do Atomic Clocks Get Their Signal
If you live in the United States, these clocks will get their signals from a radio broadcast called WWVB. It's operated by the US government's National Institute of Standards and Technology and is located near Fort Collins, Colorado. Other countries will have similar radio stations, such as the MSF within the UK.
How Long Will the Atomic Alarm Clock Last
Atomic alarm clocks will remain usable for a long time with the proper care. If you keep them well-maintained, there's no reason these devices cannot be functional for years. It's just a matter of making sure their batteries aren't dead.
Conclusion
Our article should've made finding the best atomic alarm clock an effortless task. It's now time to trust your judgment and select the perfect option for your needs. But if you need a little extra help, don't hesitate to use our comment section.
I'll make sure to answer each question with a detailed, helpful response. After all, I only want to ensure this process goes as smoothly as possible. Thanks for reading!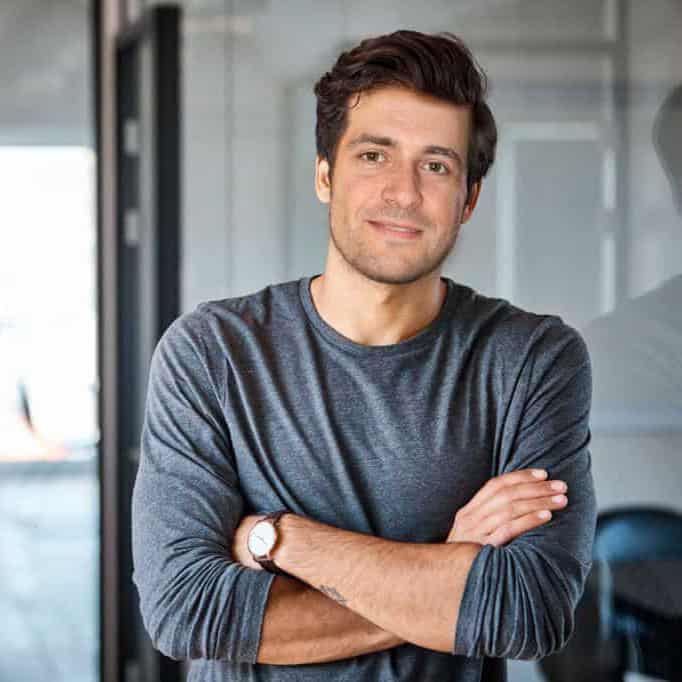 I am the last member to join Revolar and might be just the luckiest to work with dedicated people like Teddy and John. Our team has established a process where my only job is writing the best content to deliver incredible ideas and guides.