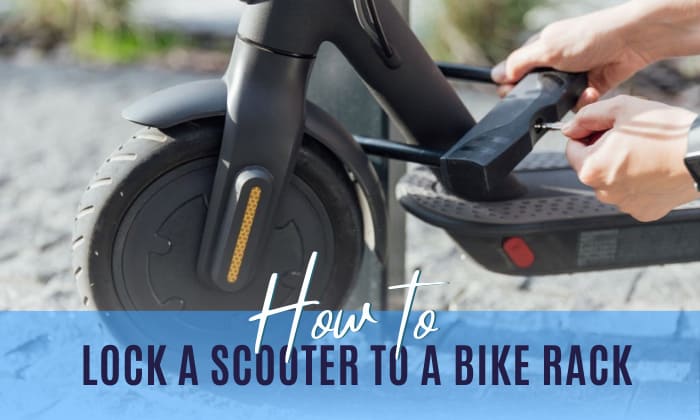 E-scooters have been driving their way up to the road scene for almost a decade now. It's space-efficient, allows users to take shorter routes, and is not as tiring as driving a bicycle.
However, the issue of vehicle safety in parking spaces is always an issue because this type of vehicle is small, light, and eye-catching for criminals.
Want to know how to lock a scooter to a bike rack? Learn the steps for doing so, the ideal electric scooter lock, and the things to consider for successful electric scooter locking.
Ways to Lock a Scooter to a Bike Rack
Electric scooters are a big investment, and thieves are everywhere, whether at school, the park or even in some secure place.
Indeed, you want to find ways to lock up an electric scooter while unattended. Lucky you, there are several locking options to fit your needs!
What to prepare
Scooter lock
Lock keys
Optional: Connected smartphone
Optional: Wireless Anti-theft Alarm
1. Look for a steady bike rack in a busy area.
Of course, no thief would want to be caught stealing your electric scooter, so parking and locking your vehicle in a busy area will lessen the risk of being stolen.
Avoid parking your electric scooter in a secluded area where thieves can have plenty of time picking or bypassing your vehicle's lock.
Also, for your possession to be kept safe, you should find a parking rack that is steady and durable. Cemented and permanently fixtured racks should be your go-to.
Seasoned thieves have the tools to compromise even the heavy-duty racks, so you don't want to keep your vehicle on a stand that would not resist cutting, sawing, or drilling pressure.
2. Assess your electric scooter
Identifying the secure looking points is one important way to ensure your electric scooter security. Meaning, you should go on a part of your vehicle that can be threaded by the scooter lock.
You must avoid looping the lock around the parts that are easy to disassemble or loosen. Don't put it on the handlebars or the fenders as these parts are only attached by the screws.
Your electric scooter's neck and folding arm are your best friend in keeping your vehicle safe.
3. Get your lock and thread it to the rack
Of course, you will need a lock for electric scooter to secure your vehicle in a bike rack.
However, there are several locks to choose from, and choosing the right one that fits your needs is instrumental to prevent your scooter from being ridden away.
01
U lock
The first thing you need to ensure is its size if you are using an u lock for scooter.
Your scooter's lock and bulkiness must correspond to each other for an easier locking experience. Your u-lock must not be too small or too big.
Place your scooter on a cemented and stable bike rack.
Attach the shackles together.
Make sure the bolt is pushed through the shackle to avoid a loose lock.
Lock the U-lock using the key.
02
E-lock
An E-lock or folding bike lock is another locking device recommended for securing your vehicle while unattended. It threads and loops around the vehicle and the bike rack.
Unharness the lock to unfold it.
Use the lock's key to open the lock and undock it. This should disconnect the folding lock.
Loop the lock around the stem or the folding arm of the scooter and the bike rack.
Use the key to keep the lock in place.
03
Heavy chain lock
It goes without saying that a lock for moped bikes can also be used to lock your scooter. A scooter chain lock sitting in your garage will also do the job!
Using a chain lock is pretty straightforward. You just need to wrap it around your scooter and the bike rack—however, this type of lock calls for an additional lock for better security.
Securing chain locks differ on each type of said lock. Some have a built-in lock on the chain, while others require a padlock. Make sure the locks are sufficiently thick to be a theft deterrent.
4. Optional: Do a double-locking
Since scooters are the apple of the eyes of thieves, it is advisable to upgrade the security by adding another layer of protection like additional locks and alarms.
01
Cable locks
Like the chain locks, you can also use a cable lock to further secure your vehicle. Just make sure that you do not use it on its own as it can easily be broken.
Scooter cable lock has a versatile function in locking your vehicle. It can be looped around the vehicle and the bike rack, or you can also use it to immobilize the wheel by threading it through the rim of the wheel and the scooter's folding arm.
02
Electric locking
Another way to add another layer of security to your scooter is by using the electric scooter lock app. That is common for scooter locks like the Ninebot scooter lock.
You can lock and unlock your scooter by opening the app and swiping the lock icon downward or upward. If a thief tries to ride away with your scooter, the alarm will go off, and the app will notify you through your smartphone.
03
Wireless Alarm
A scooter lock with alarm can put you at ease if you ever need to leave your vehicle at the bike rack in a busy area.
If your scooter is being rolled away via a would-be theft attempt, an alarm will go off, alerting you or the pedestrian. This method will put the thieves at risk of getting caught.
Types of Electric Scooters Locks
1. U lock
U-lock, or D-lock in some parts of the world, is a well-known and widely used device for locking scooters. It is easy to use and readily available in the market.
Moreover, this lock would work for any type of scooter, whether for a non-electric scooter or electric scooter locks, like the kick scooter lock.
It offers users a great deal of security and can be used by itself. However, you can only use it in bike racks.
2. Folding bike lock
Compared to the u-lock, cable, and chain bike lock, the folding bike lock is relatively new to the market. It is innovative to aid and upgrade the security offered by traditional bike locks, like the u-lock, chain, and cable locks.
Aside from the security it gives, its unique foldable feature makes it ideal for traveling as it can be folded while in transit, making it compact.
What sets it apart from the u-lock is that it can bond your scooter to a pole and other wide and chunky posts.
Things to Consider When Locking E-scooters
Do a multiple-layered lock if in doubt.
Are you parking in an unbusy and secluded place? Or is the place unfamiliar to you? If so, doing a double- or even triple-lock is the best course of action.
Doing this can amp the security provided to your vehicle while you are away. You can use a chain, a disc lock, or other locks to immobilize the wheel of your scooter.
Assess the place
If you have access to a closed and guarded parking space, then it is better to park your scooter there. You do not want to risk exposing your vehicle to the eyes of opportunists.
But if you do not have access to a closed parking space, just ensure the environment of your chosen parking spot. Make sure it is well-lit and has a lot of pedestrians.
Register your scooter
Although registering your electric scooter will not prevent thieves from stealing your vehicle, it is still a great way to create your record of ownership.
If you ever have your scooter stolen, you can ask the authorities to track it down.
Conclusion
Learning how to lock a scooter to a bike rack is an important measure to keep your investment safe, especially in times wherein opportunists are everywhere.
You can now take a bit of a burden on your chest while away from your vehicle. It is essential to know the proper ways to lock your scooter, as well as the different locking options to do so.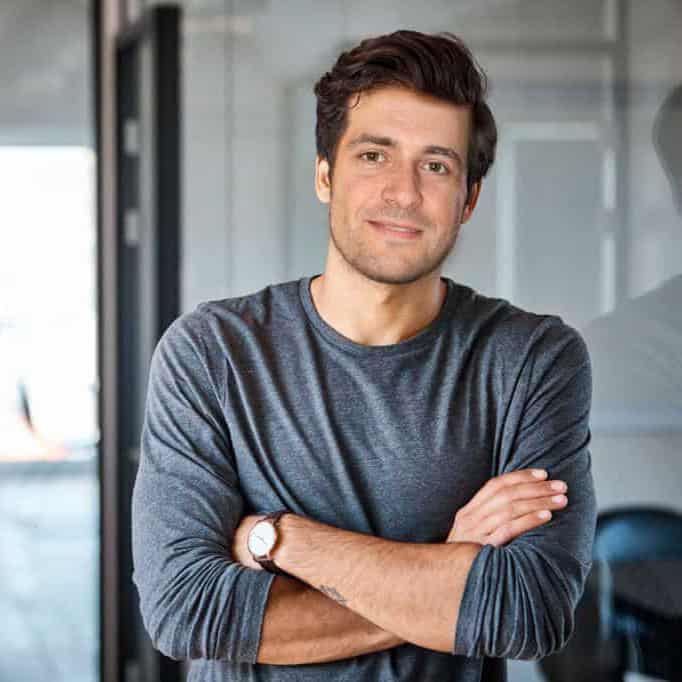 I am the last member to join Revolar and might be just the luckiest to work with dedicated people like Teddy and John. Our team has established a process where my only job is writing the best content to deliver incredible ideas and guides.