Schlage or Kwikset? Both are popular lock brands that many homeowners prefer over other lock manufacturers.
If you've read some Schlage and Kwikset lock reviews, you'll see many positive reviews for both brands, making it harder to decide which one to choose.
Fortunately for you, we've carefully analyzed the two brands, from their similarities and differences to their pros and cons as well as their popular products.
So, let's find out the answer to the question – is Schlage better than Kwikset in this Schlage vs Kwikset debate?
| | | |
| --- | --- | --- |
| Specifics | Schlage | Kwikset |
| ANSI/BHMA Certified | Yes | Yes |
| Finish | Bright Chrome, Satin Nickel, Satin Chrome, Aged Bronze | Polished Chrome, Satin Chrome, Satin Nickel, Venetian Bronze |
| Grade | 1 | 3 |
| Latch Backset | Can fit 2-3/8 in. or 2-3/4 in | Can fit 2-3/8 in. or 2-3/4 in |
| Special Features | Pick and bump resistant | SmartKey re-key technology |
Schlage versus Kwikset: Brief Background
We all know by now that Kwikset and Schlage are lock manufacturers aiming to provide homeowners the best and most secure locks. But before we dive into their lock types and features, let's get to know a bit about their history first.
1. About Schalge
Let's start with Schlage, you're probably wondering who owns Schlage. Walter Schlage founded the company in 1920. Over the years, he developed locks that transformed the door lock industry.
The company kept on expanding and was acquired by Ingersoll Rand in 1974. In 2013, they joined Allegion – a manufacturer of security products. In 2020, Schlage celebrated its 100 years of
providing innovative door locks.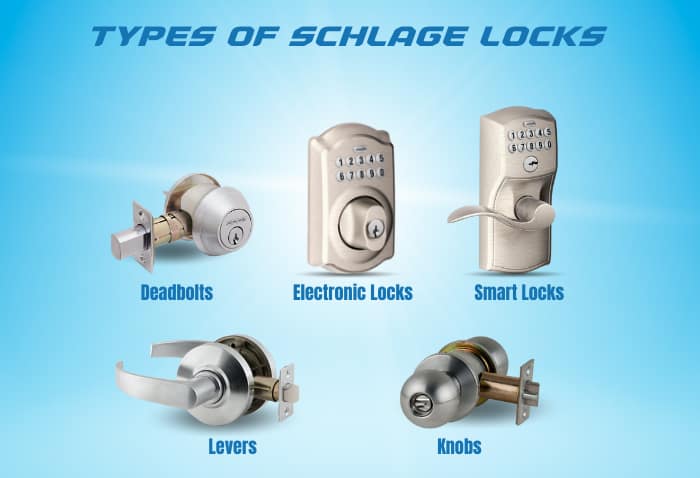 Types of Schlage Locks
Deadbolts
Electronic Locks
Smart Locks
Levers
Knobs
In addition to their door locks, they also offer a Schlage security set, door handle set, hardware and other accessories.
Schlage Lock Features
Keyless Entry
Remote Access
Built-in WiFi
Automatic Relocking System
Built-in Alarms
2. About Kwikset
Kwikset also has a long history. The company started offering residential locks in 1946. Founders Adolf Schoepe and Karl Reinhard are all about producing high-security locks and quick installation, thus the name Kwikset.
In 1957, Kwikset joined American Hardware Corporation and continues to become the leading manufacturer of residential locks.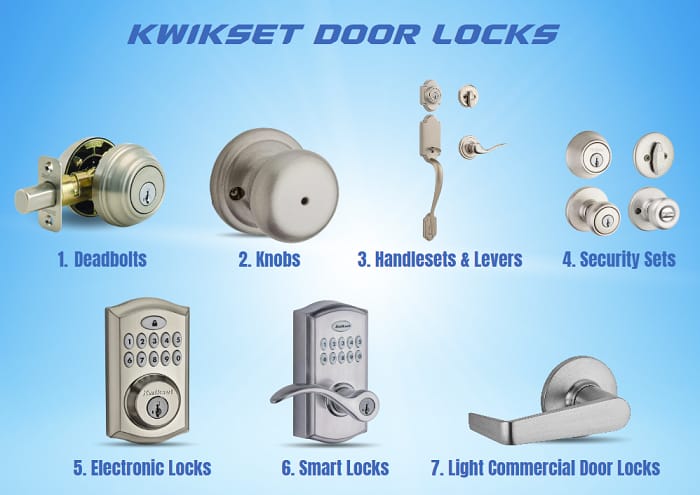 Kwikset Door Locks
Deadbolts
Knobs
Handlesets and Levers
Security Sets
Electronic Locks
Smart Locks
Light Commercial Door Locks
Similar to Schlage, they also offer parts and accessories.
Lock Features
SmartKey Security Re-Key Technology
Keyless Entry
Two-Factor Authentication
Remote Access
Auto-Lock
It's clear to see that both brands offer almost the same types of residential locks. But that is not their only similarity since Kwikset and Schlage also manufacture commercial locks.
In addition to that, Kwikset and Schlage lock types are easy to install and are DIY friendly. Their smart locks are also compatible with most smart home systems.
Regarding customer support, they are only a phone call away. If you can't reach them by phone, you can also contact them by sending an email through their website.
The Difference Between Kwikset and Schlage Locks
Of course, no matter how similar they are with their product lines, no two brands are exactly the same. So, let's compare Schlage locks vs Kwikset based on the following parameters.
1. Drill-Resistant Plate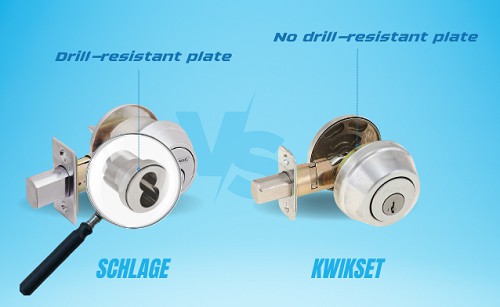 One important feature of a good door lock has a drill-resistant plate. Most low-quality locks don't have a resistant plate, making them less secure. An intruder would do anything to get through the door and one way to do it is by drilling the lock.
A drill-resistant plate, as the name suggests, prevents that from happening by protecting the screws in the lock.
Schlage lock housing is made of drill-resistant plates, making it more challenging to expose the screws.
Kwikset, on the other hand, has no drill-resistant plate on its locks which makes it easier for intruders to get into the house when they try to drill it.
2. Security Pins
When it comes to security pins or spool pins, Kwikset only has 2 pins while Schlage has 4 pins, making the latter brand more challenging to pick.
3. Bolt Size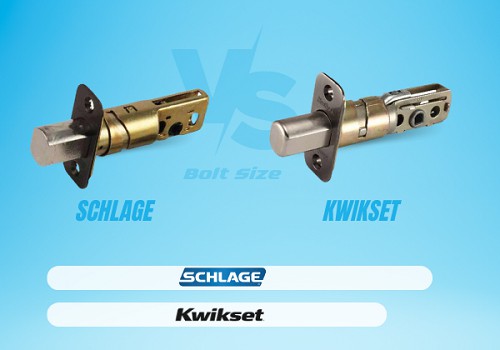 The bigger and longer the bolt size is, the harder it is to force open the door. Schlage bolt size is significantly stronger and bigger than Kwikset making Schlage locks harder to open with force.
4. Screw Size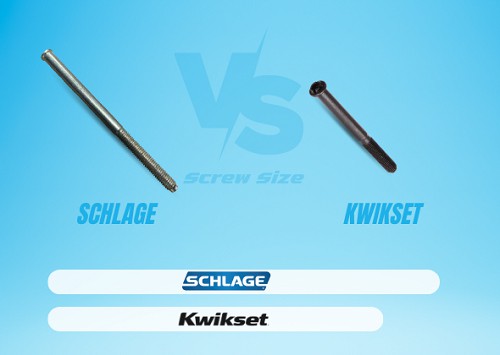 Similar to bolt size, the bigger and stronger the screw is the more challenging it is for intruders to break open the door.
We know by now that Schlage's screws are protected by a drill-resistant plate. This means that before the burglars can get into the screws they need to break the plate first which can be very difficult to do.
In addition to that, Schlage's screws are more durable and thicker than Kwikset's. Plus, Kwikset's screws are easily exposed since they don't have a drill resistant-plate to protect the screws.
5. Price

It's not surprising to know that Schlage is more expensive than Kwikset considering the durability and quality of their locks.
To give you an idea, you can purchase a Kwikset deadbolt for only $14 while a Schlage deadbolt can cost you around $30.
6. Pros and Cons
1. Kwikset
ANSI/BHMA Certified
More affordable
Offers a SmartKey Security Re-Key Technology
Compatible with smart automation systems
Easy to install
Lesser commercial locks option
Lack of drill-resistant plate
Easier to pick and is prone to force entry
2. Schlage
ANSI/BHMA Certified
Made with more durable and high-quality materials
Offers a wider range of commercial products
Harder to pick and bump
Compatible with smart automation systems
More expensive
A bit harder to install
Requires a locksmith to rekey locks.
Kwikset versus Schlage: Popular Products
We all know that there are several Kwikset and Schlage lock types to choose from depending on your needs. Now let's try to compare some of their popular products. But let's focus on Schlage vs Kwikset Smart Locks.
1. Kwikset Halo vs Schlage Encode
Let's compare Schlage Smart Locks Encode with Kwikset Halo as these two fall under both brands' high-end smart locks.

Kwikset Halo Features
Schlage Encode Features
– One-touch lock system

– Compatible with Google and Alexa

– Controls lock via Kwikset mobile app

– Voice command via Alexa and Google Assistant

– Maximum of 250 access codes

– Alarms after 3 incorrect user code entries

– Comes with a Kwikset smart key

– Has a built-in WiFi

– Compatible with Google and Alexa and other smart home products

– Fingerprint-resistant touchscreen

– Voice control

– Built-in alarm

– Maximum of 100 access codes

– Comes with a Schlage smart key
As you can see, both smart locks almost have the same features. However, when it comes to access codes, you can create more with Kwikset. In addition to that, Kwikset Halo is more affordable compared to Schlage Encode.
In terms of warranty, Schlage Encode has a 3-year warranty while Kwikset Halo only offers a 1-year warranty. Nonetheless, both smart locks can provide you with almost everything you need when it comes to securing your homes.
2. Schlage Sense vs Kwikset Premis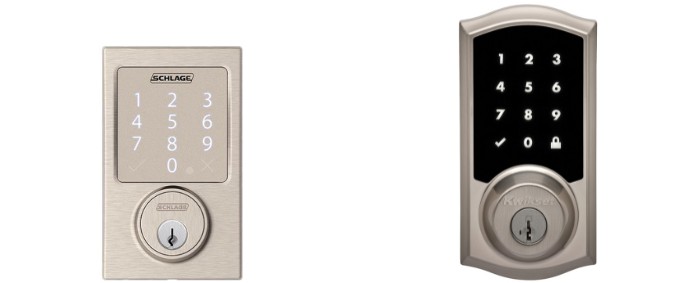 Schlage Sense Features
Kwikset Premis Features
– Compatible with Google Assistant, Siri, and Alexa

– Built-in Alarm

– Manage lock easily through the Schlage Home app

– Maximum of 30 access codes

– Comes with a Kwikset smart key

– Can be integrated with Apple HomeKit

– Easy lock control

– Siri Voice command

– SecureScreen Technology

– Alarms when incorrect code is entered

– Maximum of 30 access codes

– Comes with a Schlage smart key
For those who are looking for a simpler and mid-range smart lock, Schlage Sense and Kwikset Premis are good options.
Compared to Halo and Encode, these smart locks are a bit cheaper since both have limited features.
As you can see, Kwikset Premis is a bit limited in terms of voice command and compatibility with smart homes. So, if you have Google Assistant, it may not be a good choice for you. But if you're looking for a more budget-friendly smart lock, then this will do.
Which is Better Kwikset or Schlage?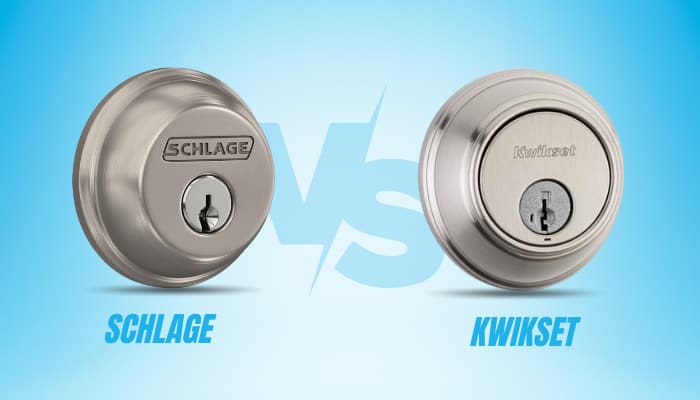 With all things considered, you might be thinking – are Kwikset locks good enough? While Schlage may have the upper hand, it doesn't mean that Kwikset products are low-quality. In fact, they are better than many popular brands.
However, it's hard to say which brand is better, since we all have our own preferences and it will all boil down to our needs. Schlage may have more features but some of these features may not be necessarily important to some homeowners.
Tips for Choosing the Right Lock
There are different types of door locks available in the market and it can be confusing to choose the right one for your home or apartment locks. So, here are some tips to help you out.
Check the door lock grade.
The highest grade for locks is Grade 1, so consider choosing a lock with at least a grade 1 or 2 rating and check if it's ANSI/BHMA certified.
Consider where you'll be using the lock.
If it's for an exterior door, then you'd want a lock that provides better security. A smart lock would be a good choice for exterior doors since it's more secure than traditional locks and you can access it anytime and anywhere.
Decide whether you need a smart lock or not.
Smart locks are more expensive, so you should also consider how much you are willing to spend.
You might also want to consider a lock that is easy to install.
This will also help you save money if you can install it by yourself than paying a locksmith to do it for you.
Read next: 4 Top-Rated Door Lock Brands
Frequently Asked Questions
Are Schlage and Kwikset interchangeable?
Schlage key and Kwikset key are not interchangeable since both brands have different keyways. Their bottom pins also differ in size.
What is Schlage Essentials lock grade?
For your information, Schlage Essentials lock grade is 3, withstanding a force of up to 120 lbs, which is lower than most Schlage locks.
Is Schlage a good brand?
Schlage is one of the most trusted lock brands in the industry in the USA and internationally. With over 100 years in service, Schlage has proven to offer higher-grade protection than its competitors.
Conclusion
So, who do you think won the Schlage vs Kwikset faceoff? While both brands have their strengths and weaknesses, it's obvious that Schlage and Kwikset offer one of the best security systems out there.
It really doesn't matter whether you pick a Schlage deadbolt or a Kwikset lock, as long as it satisfies your needs.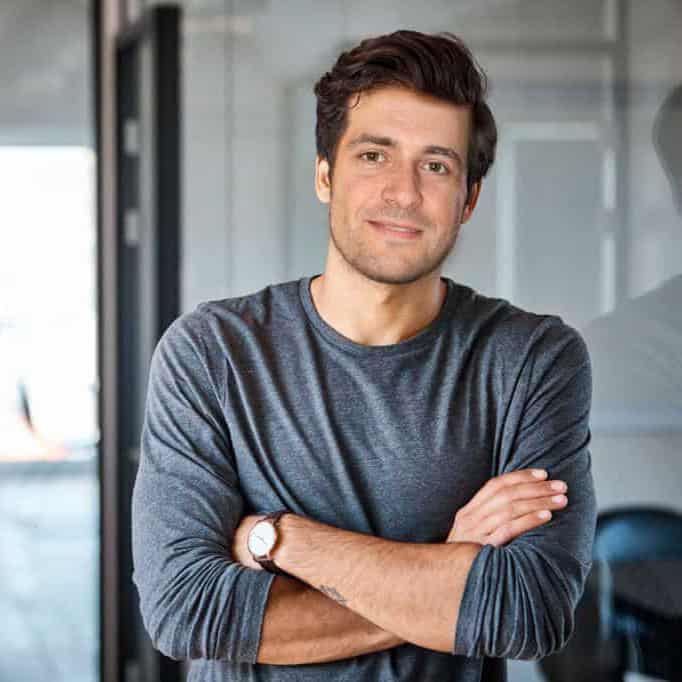 I am the last member to join Revolar and might be just the luckiest to work with dedicated people like Teddy and John. Our team has established a process where my only job is writing the best content to deliver incredible ideas and guides.