Most people rely on alarms to wake up and start their days. It's why radio alarm clocks remain such a valuable commodity, even with almost everyone having a smartphone. These devices provide reliability and entertainment to ensure you never miss that morning meeting.
But the radio alarm clock marketplace can be a frustrating place. It's littered with subpar options, which some would confuse with the best radio alarm clock available. So how does someone separate the high-quality options from these substandard ones?
Well, it comes down to understanding what a buyer should consider when buying one. In other words, they'll need to know the buying factors that impact a radio alarm clock's quality. So here's a quick look at a few to offer a perspective of what I'll discuss in more detail:
Alarm Quality: Buying a radio alarm clock without a high-quality alarm doesn't make much sense. As a result, it's essential to research this aspect for its sound level and additional features before making a final decision.
Construction: The digital radio alarm clock will offer a durable and compact design. In other words, they will last a long time without taking up much room. It's a perfect balance to adapt into any homeowner's bedroom.
Ease of Use: Don't ever choose these products without researching their using process and features. If you do, there's a high probability of purchasing a radio alarm clock that is unnecessarily complicated.
Aside from these features, I've also compiled a list of 12 radio alarm clocks. These options will provide some insight into what top-tier options look like and offer. You'll learn more about these choices within the following alarm clock radio reviews and buying guide.
12 Top-tier Radio Alarm Clock Reviews
1. USCCE Digital Alarm Clock Radio
USCCE's Alarm Clock Radio offers a sleep quality most others can't match. It begins with an incredible LCD with adjustable brightness levels. In fact, I can customize it from 0 to 100% using a dial based on my specific preferences.
I was also impressed with its dual alarm functionality. This aspect allows me to set up two alarms at the same time with three different modes. I have a choice between weekend, weekday, or all-7-day mode for flexible use.
More importantly, it comes with five built-in alarm tones. I can wake up to a piano, buzzer, beep, soft music, or bird noises. If none of those are my speed, I also have the choice of using its radio feature to wake me up.
The radio itself is rather impressive, as I can save up to 40 FM stations. It's perfect for me, as I love to play music around the house and this digital clock radio makes it easy. My cleaning and sleeping sessions have become a lot more enjoyable with this product.
Another crucial addition is the sleep timer function. It helps preserve the clock's battery by ensuring the radio turns off when I do finally fall asleep. Plus, I can charge other devices using this product's two convenient USB ports during the night.
I only wish this bedside clock radio was a little more convenient with its on/off buttons. These controls are relatively close to each other, so I can easily turn the clock off on accident. Users will need to be cautious to avoid this issue.
Adjustable brightness levels on LCD (0 to 100%)
Dual alarm functionality with three available modes
Five built-in alarm tones, plus radio
Features up to 40 FM radio stations
Preserves battery with sleep timer function
Two USB ports to charge other devices
On/off buttons close to each other
I'm not going to complain too much about the on/off buttons, though. Once I got used to them, this product became everything I wanted.
2. DreamSky DS206 Clock Radio Alarm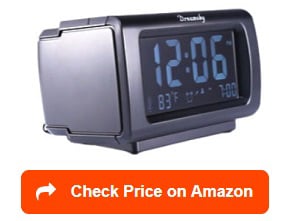 The DreamSky DS206 Bedroom Clock Radio Alarm is a blessing for music lovers like myself. It makes accessing the FM radio feature simple with its easy tuning and adjustable volume aspects.
I can also use the radio as my waking up method for extra convenience. If a user isn't too fond of that idea, it comes with a traditional buzzer alert. I always prefer when a bedside alarm clock radio provides some choices about its alarm process.
One more important part about its alarming process is the gradual build-up. In other words, I'm never woken up by a jarring 130dB alarm, but rather it gradually builds its sound. It's a much more comfortable experience for everyone.
Moreover, this bedside radio alarm clock offers a USB port. It makes sure my phone and tablet stay charged with ease. I can't say enough about its snooze capabilities, either. I'm always looking to maximize my sleeping, and the 8-minute intervals have been very helpful.
This device offering two power sources is an ideal quality, as well. It comes with a DC adapter and an internal backup battery to ensure it's always usable. After all, the backup battery will come in handy during blackouts and power outages.
But it'd be even more practical if the alarm volume was dial-controlled instead of using buttons. I do admit this issue is more preference-based. However, it does seem like my fellow buyers do feel the same when concerning this problem.
Easy to tune FM radio with adjustable volume
Two alarm methods (buzzer or radio)
Gradual alarm build-up
Additional USB port for charging other devices
8-minute snooze capabilities
Two power sources (DC adapter and backup battery)
Volume isn't dial-controlled
Even with the volume control issue, I find myself loving this radio alarm clock with USB charger port. It has too many other benefits and valuable features for me to feel any other way. Buyers could certainly do much worse within this marketplace.
3. Emerson ER100301 Alarm Clock Radio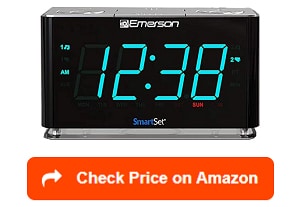 One of the more convenient options available would be Emerson's ER100301 SmartSet Alarm Bluetooth Clock Radio. After all, it uses Bluetooth to encourage a much more comfortable user experience for everyone involved.
I was also thrilled with its easy-to-read LED clock display. Sadly, I don't have the best eyesight, so this ultra visible clock radio helps immensely. It even comes with a user-friendly blue night light to further help people like me.
As for its radio capabilities, this device has a digital tuning FM radio. It'll remember 20 FM stations to help promote a more convenient using process. I've had no issues finding stations or using the radio whenever the time comes for some much-needed entertainment.
Emerson did me a massive favor by including an automatic time setting system, as well. It keeps me from forgetting about things like Daylight Savings Time. Therefore, I never miss a meeting because my alarm clock is an hour behind or ahead.
If these features weren't enough, Emerson made operating and programming the device a breeze. The included instructions depict everything in an easy-to-follow manner. I can't see how anyone would find themselves having difficulty with it.
But it's worth noting that it does have a habit of providing static when playing music. A few customers blame this issue on the antenna being within the power cord. But honestly, it hasn't been a huge problem when I've used this modern alarm clock.
Utilizes Bluetooth for extra convenience
Easy to read LED clock display
Equipped with a user-friendly blue night light
Digital tuning FM radio remembers 20 FM stations
Automatic time setting system
Simple to operate and program
Overall, I'm more than willing to deal with some static. The Bluetooth compatibility and automatic time setting system managed to make me care very little about it. But I could see how other people might feel differently.
4. JALL Wake Up Light Sunrise Alarm Clock
Alarm clocks with radio capabilities don't get much more advanced than JALL's Wake Up Light Sunrise Alarm Clock. It has a long list of appealing features and aspects that most high end alarm clock radios cannot match.
I'd have to start with its sunrise simulation light feature, which offers seven natural sounds. This aspect will allow me to wake up with gradually brightening light rather than an alarm. If I don't turn it off, it's backed up by an alarm to ensure I wake up on time.
I was also happy to see this option offered dual alarm capabilities. It's an ideal aspect for me because I often sleep later than my partner. So this quality allows me to set up a different alarm for her and me.
The alarm sound selection was another impressive aspect, as well. I get to choose between seven alarm sounds ranging from ocean waves to birdsongs. Moreover, I can also select the FM radio for my alarm setting.
Alarm clocks don't usually have this much adjustability, either. It offers 16 volume levels for the alarm while having seven color options and 20 brightness levels for the nightlight. More importantly, it provides the all-too-important snooze function of nine minutes.
Of course, the one flaw with this option is its costly price tag. It ends up being the most expensive choice on our list. Buyers will need to determine whether its impressive features are worth the asking price for them.
Gradual sunlight simulation with seven natural sounds
Dual alarm capabilities for multiple users
Seven alarm sounds, plus FM radio
16 adjustable volume levels
Seven color options and 20 brightness levels for light
Nine-minute snooze function
In my case, I never have an issue paying extra for better performance. This advanced option certainly performs better than most and offers unique features. So I ended up feeling delighted with my decision to spend the additional cash.
5. Housbay RS1 Glow Small Alarm Clock Radio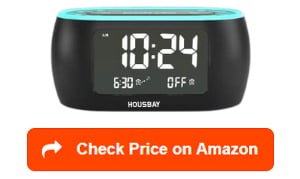 This next option, Housbay's RS1 Glow Small Alarm Clock Radio, earns a place on our list by being endlessly practical. I was pretty shocked by how well this product managed to function as a 3-in-1 device.
Most similar options tend to struggle with one of the included aspects, but not this device. It handles the duties of an alarm clock, nightlight, and FM radio with ease. I was particularly impressed with its alarm capabilities, especially its dual alarm functionality.
As with prior options, this feature allows me to set two alarms at once. But this device offers three wake-up sounds to customize the experience further. I can choose to use the radio, a beep, or birds chirping as my wake-up alarm.
Its nightlight capabilities were similarly impressive, as well. Each user can choose between seven colors and five brightness levels to find a variation suitable for their needs. It makes for a much more comfortable sleeping environment.
The convenient aspects don't stop there, either. The device also features glow-in-the-dark buttons for easy nighttime usage and a backup battery capability. I always prefer a dual alarm clock radio with backup battery features, as my area is prone to power outages.
However, I do wish this product came with batteries included. It seems like a slight oversight by Housbay as this inclusion would've only made their product more convenient.
Effective 3-in-1 device (alarm clock, nightlight, and FM radio)
Dual alarm functionally with three wake up sounds
Nightlight offers seven colors and five brightness levels
Glow-in-the-dark buttons for easy nighttime operation
Usable during power outages with backup battery feature
But if the only flaw is not including batteries, I'll take it every time. This 3-in-1 device has only made my life easier and sleeping sessions better. I don't see any reason why it won't offer the same performance for someone else.
6. REACHER Small Digital Alarm Clock Radio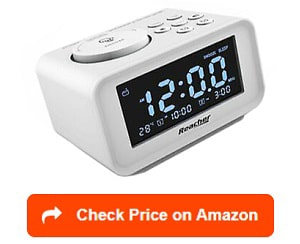 Conserving bedside table space has never been easy when using clock radios. But REACHER's Small Digital Alarm Clock Radio flips the script with its compact, small design. It combines alarm and radio capabilities into an easily adaptable device.
Furthermore, it's vital to avoid thinking its small stature means it lacks exciting features. The clock still offers five natural wake-up sounds and 30 adjustable volume levels. Both attributes will ensure much more comfortable sleeping sessions.
The product's LCD is another impressive feature. It offers full-range dimming to provide even more user control over how the device is utilized. Meanwhile, it's always crucial to highlight when these products provide a sleep timer function and snooze capabilities.
In this case, the nine-minute snooze function deserves a little more praise. After all, users can hit it up to seven times whenever it's needed. Everyone has those days where they don't want to get up on time, and this aspect meets those needs. Moreover, The timer turns off the radio when I've fallen asleep, thus preserving the battery.
One last appealing feature to mention is this device's flexible 59-inch cord and adapter. Such an addition ensures plugging in the device is a lot easier than with similar devices. It's long enough where I can place it wherever I desire without issue.
But I did notice one issue with this alarm clock radio. The temperature indicator on its LCD isn't always precise. On more than one occasion, I found it a degree or two off compared with my thermostat.
Compact alarm and radio device with five natural wake sounds
30 adjustable volume levels
Full-range dimmable LCD
Sleep timer function to preserve battery
Nine-minute snooze capabilities (usable up to 7 times)
Flexible 59-inch cord and adapter
Temperature indicator isn't always precise
However, buyers shouldn't let a single degree or two stop them from considering this solid option. Its small, compact design and convenient features are too much to overlook.
7. Magnasonic EAAC201 Digital AM/FM Clock Radio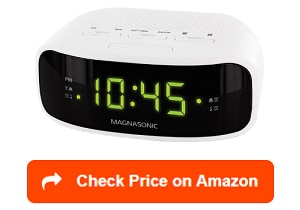 Magnasonic's EAAC201 Digital AM FM Clock Radio happens to be our first option that offers both AM and FM stations. It allows users to program 20 stations for the device to remember for convenient usage.
I was delighted by the ease of tuning into each station, as well. Magnasonic made it simple with the included buttons that are comfortable to use. Sadly, many other clock radios are uncomfortable for me to use because I have large fingers.
Magnasonic also offers each user two design colors to choose from, black or white. It makes the process of meshing a clock radio into a bedroom's decor much easier. I found myself leaning toward the white choice since it blends perfectly into my room's intended vibe.
Another notable aspect would be its ultra-visible LED display. I don't have a single issue seeing the time displayed on it from across the room. It even comes with two brightness levels to demonstrate its adaptability further.
Furthermore, I had a power outage occur when utilizing this clock radio. Its dependable backup battery feature made sure all my settings and the time remained without issue. This aspect isn't one a buyer should underestimate when looking at these devices.
The consumer reports did mention one negative, though. Some customers weren't thrilled with the included instructions, and I can't say I blame them. I didn't find them helpful when setting up the device, either.
Offers AM and FM radio with 20 programmable stations
Easy to tune into each station via buttons
Two meshable color options
Ultra-visible LED display with two brightness levels
Dependable backup battery feature for maintaining settings
Not very helpful instructions
All in all, I wouldn't advise putting too much thought into the subpar instructions. Magnasonic made the setup process easy enough where even a newbie shouldn't have issues.
8. Emerson SmartSet Alarm AM/FM Clock Radio
Bargain buyers are known to favor Emerson's SmartSet Alarm AM/FM clock radio. It's not difficult to see the appeal as this option is a simple, affordable choice. In fact, it's among the least costly options on our entire list.
However, this AM FM alarm clock radio still offers some impressive features. One of my favorites is its easy-to-use dimmer for the LED. It provides four levels to cycle through, so each user can find one suitable for their needs.
I was also pleased with its ability to set itself automatically. In other words, it'll reset to the correct month, date, day, year, and time after each power outage. As a result, I don't have to rely on myself to ensure the clock has the correct information.
Users will benefit from its two selectable wake-up sounds, as well. It keeps things straightforward by only offering a choice between a buzzer and radio. Honestly, this type of simplicity could make it an ideal option as a clock radio for seniors or kids.
I wouldn't recommend overlooking its three programmable modes. For instance, they allow me to set the alarm to work only on weekends, only on weekdays, or every day. It's another way this simple radio alarm clock remains competitive with these more advanced options.
My only complaint about this option would be its lack of volume control. There isn't a way for users to turn up or down the radio when it's being played. It's slightly inconvenient, but the clock radio is set at a reasonable volume level upon delivery.
A more affordable, simplified choice
Easy to use dimmer for LED with four levels
Automatically sets the time, month, date, day, and year
Two selectable wake-up sounds (buzzer or radio)
Three programmable modes for convenience purposes
No volume control to turn up and down the radio sound
Aside from its lack of volume control, this option functions well for its purposes. It has managed to wake me up on time without issue ever since I got it.
9. Jingsense Digital AM/FM Radio Alarm Clock
The Jingsense Digital AM/FM Radio Alarm Clock has a reputation for avoiding all the bells and whistles that complicate clock devices unnecessarily. Instead, it impresses users like myself by offering a basic design with easy-to-operate features.
A solid example would be its two alarm modes: radio or beep. Each option will wake the sleeper by gradually increasing its sound level until it's turned off. As a result, they're never startled or jolted from their sleeping session.
I was also delighted by it offering both FM and AM radio stations. It provides a bit more variety than I usually get. Therefore, I never find myself bored of the supplied channels, which happens when using similar devices.
This option offers an impressive sleep timer function, too, with its vast adjustment range. I can set it anywhere between 10 minutes and 90 minutes based on my sleeping patterns. As someone who takes forever to fall asleep, I often put it closer to 90 minutes.
Other notable aspects include four color options for the LCD digits and two available power sources (cord/backup battery). These attributes only further prove this option as one of the more user-friendly and simplified choices available.
A customer or two did mention the LED number digits being challenging to read in the dark. I did find myself having some trouble when using the device, as well. Buyers would be wise to account for this issue before spending their money.
Basic design with simplified features and easy operation
Two alarm modes that gradually increase for optimal user experience
Tunes into AM and FM radio stations
Sleep timer function between 10 minutes and 90 minutes
Four color options for LCD digits
Two power sources (power cord and backup battery)
Difficult to read in the dark
If a device's only problem is being a little difficult to see in the dark, buyers should see that as a win. I certainly do, as I couldn't be much happier with this FM AM clock radio.
10. ANJANK Wooden Digital Alarm Clock FM Radio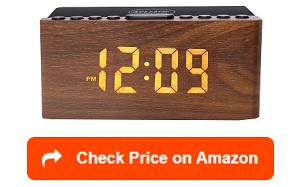 At first, the phrase "cool clock radios" might seem a bit like an oxymoron. But ANJANK's Wooden Digital Alarm Clock FM Radio breaks the standard with a beautiful wooden design. It's almost like having a piece of art on my bedside table.
It's also one of the more advanced available options with its impressive feature list. For instance, it offers fast wireless charging for my phone. I just set the smartphone onto the charging pad, and it's ready to provide it with the necessary juice.
Tuning and setting my FM radio channels isn't difficult, either. ANJANK managed to keep it effortless, whereas many other brands seem to fail. I even had my grandpa try to set it up, and he didn't have trouble with it.
However, one of my favorite aspects is the product's sound quality. It was pretty impressive compared to what I'm used to with these devices. Plus, the speaker's volume level was easily adjustable for peak convenience.
If these aspects weren't enough, it offers two effective wake-up modes (buzzer and radio) while having large 1.2″ display digits for easy reading.
The only area where I think it could improve a bit is the buttons' responsive level. On some occasions, I have to hit a button more than once. It's a slight issue, but one a buyer should know about before making a final decision.
Beautiful wooden design
Offers fast wireless charging for smartphones
Easily save and tune into FM radio channels
Solid sound quality with adjustable speaker
Two effective wake-up modes
Large display 1.2″ digits for easy reading
Buttons could be more responsive
In the end, I'm not going to let a slight button issue ruin a solid radio clock alarm like this one. It has too many other excellent aspects to dismiss it. In fact, this device ends up checking off most of my wanted feature list without much issue.
11. I-Box Bedside Radio Alarm Clock
I-Box's Bedside Radio Alarm Clock does an excellent job pushing the technological envelope with its built-in wireless charging pad. It is a downright splendid aspect because it's compatible with any Qi-enabled phone, which is a large number.
As a result, I'm able to provide my phone with fast wireless charging without any issue. I also found myself loving its LED display with the five-level light dimmer. It makes adjusting the brightness a lot more straightforward than I've seen with other choices.
But these aren't even my favorite components of this radio alarm clock. Instead, this title goes to its ability to function as a Bluetooth speaker, allowing me to play music using services like Apple Music and Spotify. I can even listen to songs from FM radio with it.
Meanwhile, the sound quality is terrific with its Passive Subwoofer and embedded 6W speakers. The device's design doesn't look bad, either, as it's pretty stylish. It even comes in five different colors to appeal to a broad audience base.
I-Box was even nice enough to provide a 12-month warranty for each buyer. As someone who's constantly breaking and dropping things, this policy is a godsend. It'll make sure I can get a replacement if an accident does happen.
But this radio alarm clock does cost a pretty penny. It's easily among our most costly options. Buyers will need to consider it when looking at whether it's a suitable choice for them.
Convenient, built-in wireless charging pad, compatible with Qi-enabled devices
LED display with five-level light dimmer
Usable as a Bluetooth speaker to stream music
Excellent sound quality with 6W speakers and Passive Subwoofer
Stylish design with five color options
12-month warranty to ensure quality
I can't help but feel like this device is more than worth its asking price, though. The sound quality alone makes it a home run for my needs. But someone who needs a basic alarm clock radio might view it differently.
12. DreamSky DS205 Alarm Clock Radio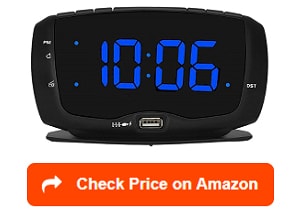 Our last clock radio, DreamSky's DS205 Alarm Clock Radio, is one of the more straightforward options as it keeps the setup process effortless. It's made easy with its comfortable, intuitive button controls that I adore.
I was also pleased with its built-in speaker and its adjustable volume levels. Honestly, I was surprised by its audio quality as most clock radios provide a great deal of static. This one limits it much more than I've encountered with other options.
It also allows for private listening sessions via its included headphone jack. Therefore, I don't have to bother my partner when I feel like jamming to some music. It's another way to help keep a more comfortable sleeping environment for everyone in the bedroom.
As with a few other choices, this option comes with dual USB charging ports. I can't express how much these features have helped declutter my bedroom. I can now use it to charge my phone and tablet rather than using another electrical outlet for those purposes.
DreamSky also offers a choice between a 12-hour or 24-hour time format. On a similar note, the DST function is exquisite as it lets me set the time back or ahead by an hour with a single button.
But the placement of the on/off button is rather inconvenient. It's located on the upper backside of the device, which makes operating a bit difficult. I wish it were closer to the center so I could switch it back and forth without issue.
Easy to set up via comfortable buttons
Built-in speaker with adjustable volume levels
Equipped with headphone jack for private radio listening
Dual USB charge ports for charging other devices
Two selectable time formats (12-hour or 24-hour)
Simple-to-use DST (Daylight Savings Time) function
Inconvenient on/off button placement
Once I got used to its placement, the on/off button became less of a nuisance. Then, I just maneuvered the clock radio on my bedside table, and it was no longer an issue. From there, it has been smooth sailing with its performance.
What to Look for When Buying Radio Alarm Clock
Choosing the best alarm clock radio can be a bit of an issue as every buyer will encounter a long list of options. So how do you ensure you're getting the perfect choice for your situation?
The sad truth is there isn't one option meant for everyone. But finding an ideal choice becomes much easier when considering some crucial aspects of these products. So let's dive into them and figure out what your perfect radio alarm clock is.
Alarm Quality
I'm always going to recommend choosing an option with dual alarm functionality. It'll allow users to set two alarms at once, ideal for couples who don't want to wake up together. Another aspect to look out for is the sunrise feature.
If your alarm has a sunrise feature, it'll help you wake up with light instead of sound. As you can imagine, it's a much more peaceful way of starting your day. I'd also suggest taking a long look at the alarm's sound level.
Buying an alarm with a decibel level between 110dB and 130dB will be efficient. These options won't have any issue ensuring you don't oversleep and miss a morning meeting. But make sure the alarm has a gradual build-up. You don't have to be awakened by a 130dB alarm going full force from the moment it activates.
Construction
In most cases, radio alarm clocks will have a compact and durable design. These qualities ensure they won't take up a lot of room while remaining usable for years. It won't make much sense to purchase an option that doesn't offer these qualities.
But some buyers need to consider other things when looking at an alarm clock radio's construction. For instance, you might want an option that projects the time on your ceiling or one with a known reputation for being portable.
Additional Features
High-quality alarm clock radios will come with extra features to improve your experience. It could be anything from Bluetooth to soothing nature sounds or even wireless charging. Each buyer needs to familiarize themselves with what every model offers.
From there, it becomes a simple exercise of finding an option that matches your preferences. It shouldn't be too difficult as manufacturers make it relatively easy. Most of them will list out their product's features in great detail right on the ad page.
Cost
You don't want to start this process without a well-constructed budget. It's an essential piece of this process that can help a great deal. But it can only be helpful if you're dedicated to making the budget realistic by accounting for your wanted features.
For instance, anyone who wants a FM AM radio alarm clock with wireless charging needs a higher budget. This feature will raise the product's overall price by quite a bit. So your budget will have to reflect the advanced features if you want it to help lessen your available number of options.
Ease of Use
A radio alarm clock can have all the available features, but it's still useless without one crucial ability: it needs to be an easy to use radio alarm clock. Otherwise, you're going to regret the purchase and end up not using it as much as you thought.
I'd suggest reading through the customer reviews for each option. These resources will provide a detailed picture of whether the product ensures easy use. After all, few things on earth anger people more than a purchased item they can't use effectively.
Does Anyone Use Radio Alarm Clocks Anymore
Yes, many people still use radio alarm clocks as not everyone has smartphones. So these products become an effective alternative option. In other cases, people like the idea of radio alarm clocks and prefer them to their phones.
What Are the Most Trusted Radio Alarm Clock Brands
Every brand mentioned within our product review section is a trusted manufacturer. If you stick with them, I don't see any reason you won't find an acceptable radio alarm clock.
Where Can I Buy a Radio Alarm Clock
You can buy a radio alarm clock in various places. But the primary seller often ends up being Amazon, like with everything else in our lives. If you aren't fond of using Amazon, places like Walmart or Target should have a decent selection, such as a Sony alarm clock radio or two.
Conclusion
I hope our discussions provided perspective on what's the best radio alarm clock. It's now time to use this info to find the best option for your needs during your search. From here, this entire process should become a lot easier.
Btw, If you are also looking for other alarms with advanced protection features for your home, we have compiled the trusted barking dog alarms and the most popular car alarm for vandalism.
But if you still have an issue or question, please let me know in our comment section. I'd love to continue helping you during this buying experience. Thanks for reading!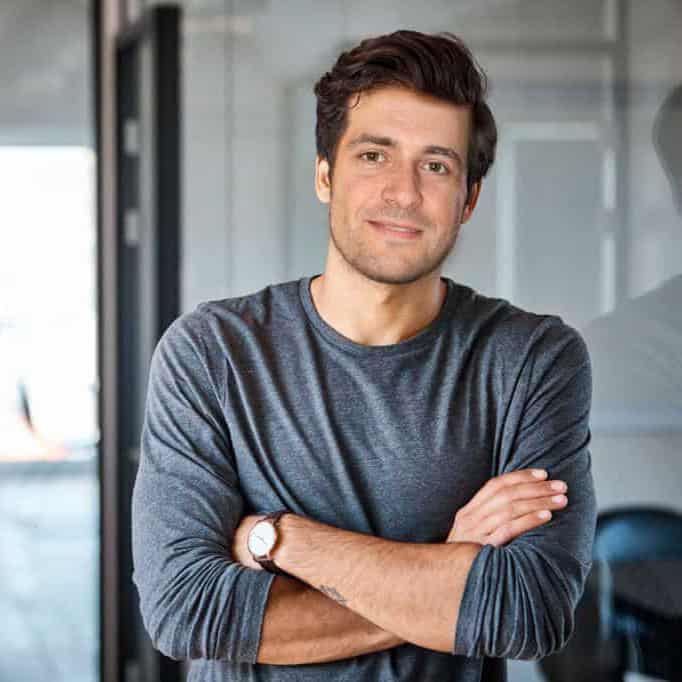 I am the last member to join Revolar and might be just the luckiest to work with dedicated people like Teddy and John. Our team has established a process where my only job is writing the best content to deliver incredible ideas and guides.