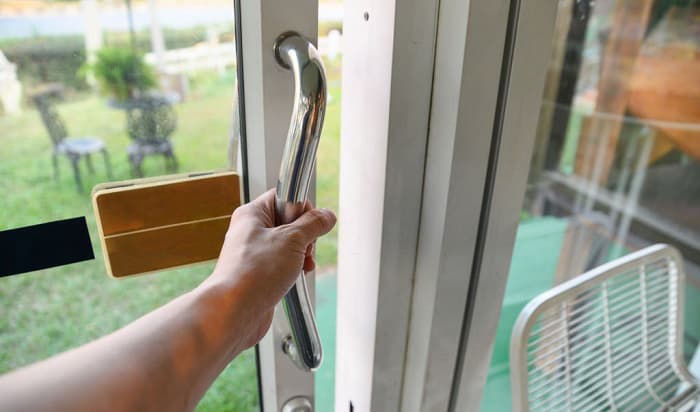 Sliding glass doors are a favorite feature especially in houses with gardens and patios. It's space-saving and helps in air flow but most especially, it's perfect for those who want natural lighting in their home.
This type of patio door looks simple and straightforward yet they are secure, moreso when you use the right sliding glass door lock for you. Listed below are types of sliding glass door locks you can choose, all looking good and working great.
Who would've thought that doors that are so inviting and welcoming are safe and secure at the same time? Glass is class, indeed.
Different Types of Locks for Sliding Glass Door
1. Mortise and hook style locks
Among locking mechanisms for sliding doors, mortise is probably the most used because its frame matches the width of many patio doors. As such most sliding glass are sold with this kind of lock.
You have probably seen many of these sliding door locks in offices, and they look good.
Pros:
It employs lever locks as its main mechanism. Its standard parts include the body that goes into the door panel, lock buttons, and the latch bolt.
One good thing about these sliding door locks is that its handle and deadbolt knob can be easily replaced without tinkering with the lock mechanism.
Aside from its pleasing aesthetics, a mortise is simple to use: depending on the model, you just need to turn the deadbolt knob to close and open the sliding door panel.
If it's not keyed, you can lock and unlock the door from the outside. There are keyed models, something to consider when you want that extra layer of protection. Mortise locks are proven reliable and you will not go wrong choosing this as a home guard.
2. Two-bolt lock
Two-bolt locks are another popular option for sliding glass doors because they are easily available online and in hardware stores. Double-bolt locks are straightforward, can be installed in a jiffy, and are easy to use.
Double-bolt locks are among the most common locking mechanisms for sliding doors. It has two pieces: the body attached to the door and the latch that goes onto the door jamb. This lock is convenient as it can be placed anywhere on the door – even near the original lock system. It employs a steel bolt that latches into the sliding door frame when locked.
It can serve as a secondary lock, adding an extra layer of protection in your property. A double-bolt lock means double the safety.
3. Keyed lock
Keyed locks, as you can guess from their name, use a key to lock and unlock sliding glass doors. It can also serve as a secondary lock, especially for those who want an outside lock for sliding glass doors.
Most sets come with a handle because installing it means replacing your mortise lock. Whichever, installing a keyed lock is all about ensuring a proper latch.
When replacing a mortise lock, you need to remove the current door handle so you can align the key cylinder to the body of the mortise plate.
After ensuring that the latching process goes smoothly, reinstall the handle and test your key.
However, it is not recommended that a keyed lock is the sole protection of your property because having an extra lock means peace of mind for you.
4. Offset thumb turn lock
The offset thumb turn lock operates without key, and just like a mortise lock, it employs a hook that connects to the frame of the door. It looks like a light switch that you can easily turn when locking or unlocking sliding glass doors.
Thumb turn and mortise locks might as well be twins because of their similar mechanism. The difference is that the former is incorporated into the door handle. Other units are keyed, too.
An offset thumb turn lock is efficient because of its straightforward design, plus it's easy to reach – up and down, up and down.
5. Smart lock
Most people forget that sliding glass doors can now be installed with a modern lock and incorporate it into a smart home system. Those who want to control their sliding door using their phone can do so with smart sliding door locks.
Sure, smart locks are more expensive compared to other sliding doors locks types, but it's a good investment, especially for those who enjoy modern technology.
There are many benefits to using smart locks.
Firstly, when paired to your phone or device, you can monitor the access to the door. Secondly, you can remotely lock and unlock the door, say when someone – or your pet – is locked outside.
There are still limited smart locks for a sliding glass door, so installing it needs an expert hand. With a smart lock, the security of your property is assured with just a phone click or two.
6. Lock pin
It does not come with the traditional locks and handles, but a door lock pin should not be overlooked because it is equally secure as any other locking mechanism. You know what they say, simplicity is beauty, and a lock pin is just that.
It's basic to install on most sliding doors.
First, close and latch the door before you make a hole that reaches the fixed door from the sliding door panel.
Make sure you avoid the screws that hold the frames. It need not be said: avoid hitting the glass, too.
After making a hole, position the hanger with enough height so the chain won't hang too low. A pin only locks from the inside and is a perfect option as an auxiliary lock.
7. Rim lock
A rim lock is a common wooden sliding door lock, but can also be used in a sliding door. What makes a rim lock unique is it can act as an interior or exterior lock.
Like a two-bolt option, the point of a rim lock is to connect its cylinder to a hinge on the door jamb. Installing it is not rocket science and involves drilling and screwing here and there.
The lock cylinder and its backplate will be installed on the sliding frame. It will merge with the hinge, where the latch will glide into the rim when locked.
The mechanism is operated by a deadbolt knob.
The cylinder comes in varying finishes, like brass, and though it is not a favorite fixture for glass doors because of its size, it is an able protector, thanks to the secure latching.
8. Loop lock
Just like the pin option, the sliding door loop lock is an aftermarket product that serves well as an added protection besides the existing lock. It has three parts: mounting plate, lock bar, and keeper.
The plate goes onto the jamb while the keeper is on the slide panel.
The lock bar, meanwhile, is attached to the mount.
When the plate meets the keeper, you just need to lift the L-shaped lock bar and drop its short end into the latch.
Easy to install and easy to use, a loop lock is best placed near the top of the door.
9. Security bar
From its name to its mechanism, a security bar is a straightforward sliding door safe lock. It jams the sliding door, a reliable pal you can use when nobody's home.
Security bars are adjustable. The non-portable models come with easy-to-install mounts or hinges.
It operates by putting it horizontally on the mounting frames when the door is already locked.
Some bars can even be vertically stored in the jamb. If you're resourceful, you can use a spare wooden or metal rod, say a mop handle, as a blockade by placing it on the sliding frame on the floor.
This security locking bar raises the bar when it comes to protecting your home.
10. Window lock
Among the different types of sliding door, a sliding glass one is like a big window, so it's not surprising that you can use window locks on it. It's a quick fix for those who have kids who keep on opening and closing the door.
Window locks act like a stopper, especially when you want the door partially open. It's not fixed on your door, so you don't need any tools when using it.
It might not be the first thing that comes to mind when talking about a sliding patio door lock, but it's an answered prayer for those needing a cheap way to secure a door.
11. Track lock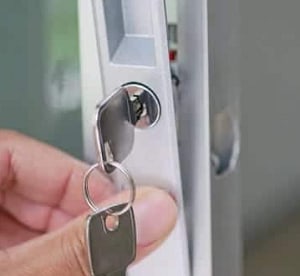 Also an easy fix like the window lock, track locks serve as door jammers. It's used on windows and usually seen on glass counters.
Using screws, these easy-to-install sliding glass door locks with key are positioned on the track frame.
This child proof lock prevents the door from opening, and since it's keyed, it can perfectly act even as a tertiary lock.
A track lock is so reliable you can even switch its use from the window to the door.
12. Electromagnetic locks
An electromagnetic lock is common among traditional doors, but with creativity, it can also be a fixture for your sliding door.
This aluminium sliding door lock is not a smart device but needs to be connected to a power source. That's one disadvantage, however, since when the power is down, the door will remain unlocked.
A sliding door deadbolt is not required for an electromagnetic lock, and keep in mind that depending on your door, you should consider the amount of holding force (132 pounds and up) to keep the lock system secure.
Installing it involves drilling, where you'll attach one part on the jamb and the other to the sliding door. The body looks bulky, so your creativity will be put to the test on how to fit it on your door.
Though it might not be the popular option, an electromagnetic sliding door lock can be a loyal servant so long as there's power.
13. Barricade
A barricade is a foolproof security system that you can easily install even without a manual. Just like a security bar, it's reliable to keep your door locked when you are out.
A latch lock for sliding door is not needed for this model because it's basically a door stopper.
The barricade comes with two metal plates that act as a base for the handle. The plates should be screwed on the floor right where the sliding panel ends when closed.
The handle goes between the plates, serving as a block for the door. The barricade is a straightforward and secure alternative lock.
FAQs
How do sliding glass door locks work?
There are many mechanisms for sliding door locks, but most employ a latching system. The point is to secure the door from the inside when the sliding panel meets the jamb.
Do I need to hire a professional to install my sliding door lock?
Most locks can be installed DIY, but for the electromagnetic, smart, and automatic locks, an expert is a big help, especially when you need to install a power source.
How to open a locked sliding glass door from the outside?
If you want your sliding door to be opened from the outside, you should consider installing a keyed lock. It's a foolproof security system that perfectly matches with another lock.
Conclusion
There are various types of sliding glass door locks, from the traditional models to the high-tech units. Most sets are compatible with any sliding doors and are easy to install.
Sliding doors are loved by many because it helps with ventilation and lighting. They are sold with a ready lock setup, but it's best to have a second lock.
Having the best lock for your sliding glass door is more than just security but peace of mind.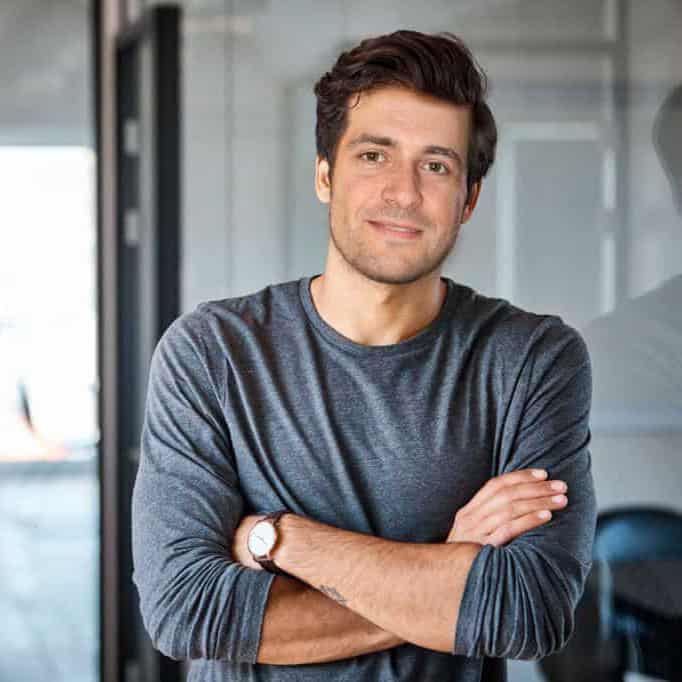 I am the last member to join Revolar and might be just the luckiest to work with dedicated people like Teddy and John. Our team has established a process where my only job is writing the best content to deliver incredible ideas and guides.