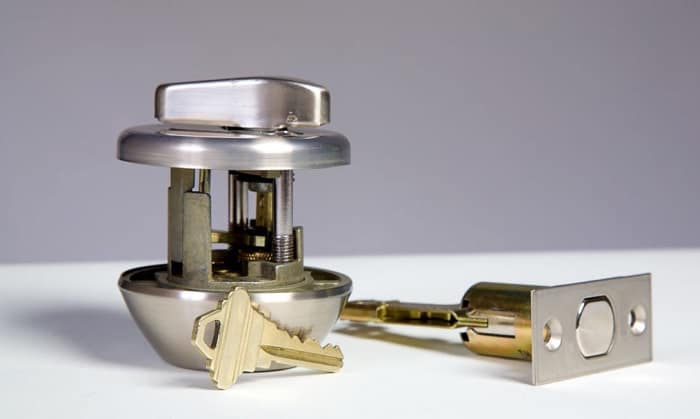 What is a deadbolt lock? A deadbolt lock is a door lock with a deadbolt inserted into a strike plate when the door's closed. It is best installed on doors that are difficult to enter by force, like fiberglass and steel doors.
When choosing a dead bolt lock for door, it is crucial that you understand what's a deadbolt lock and how it works.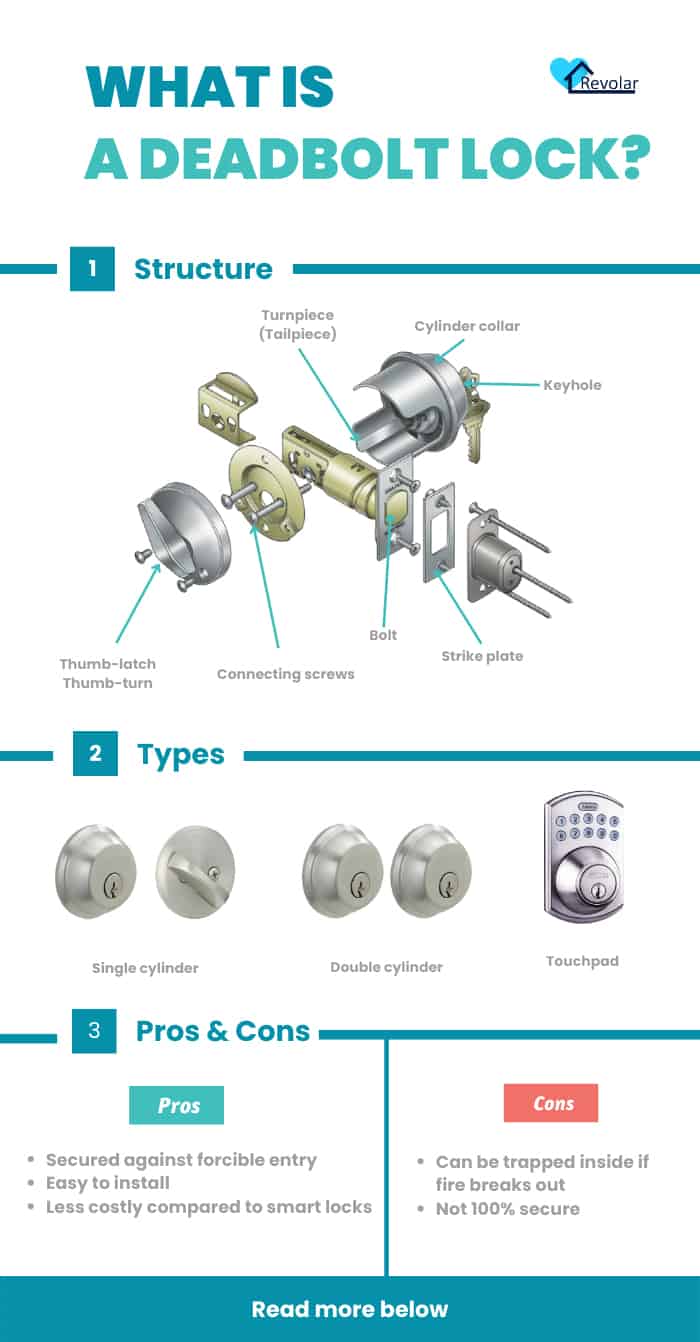 Parts of Deadbolt Lock
1. Thumb-latch/thumb-turn
You are familiar with thumb-latch or thumb-turn if you have a single-cylinder deadbolt. It keeps the door locked and unlocked, depending on which direction you turn it. Deadbolt locks that have a thumb-latch can be easily opened and closed.
2. Bolt
The bolt is the part of the lock that is placed into the strike plate to keep your door locked. The door will automatically open when the deadbolt is not inserted into the strike plate. The bolt is usually about one inch long to secure the door.
3. Turnpiece
The turnpiece is connected to the thumb turner. It extends through the cylinder and into the exterior of the lock. When the key is turned, the turnpiece moves with the thumb turner.
4. Cylinder collar
A cylinder collar is the round, solid metal covering the lock's body. It protects the lock from picking and tampering. A cylinder collar is difficult to grip using pliers or a wrench due to its shape.
5. Connecting screws
The connecting screws secure and hold the lock together. They are usually made of hardened steel and are fastened to the door. To keep the lock secure, the connecting screws are hidden and covered.
6. Strike plate
The strike plate is installed on your door frame. It is on the opposite side of your deadbolt. The chiseled part is where the bolt is inserted whenever you lock the door. The bolt is pulled away from the strike plate if the door is unlocked.
7. Keyhole
It is the hole where you insert your key. The door will open after the key aligns the pins inside the keyhole. Without the proper key, you cannot open a deadbolt lock. Double cylinders have keyholes on both sides.
Check this guide to know more about the common parts of a door lock.
Types of Deadbolt Door Locks
1. Single cylinder deadbolt
A single cylinder deadbolt has a keyhole on the outer side and a thumb turn on the inner side of the door. Once turned, the deadbolt lock is inserted into the strike plate or released from it.
This deadbolt lock is ideal to use if there is no window or glass door within 40 inches of the thumb turn piece. Otherwise, a burglar can break the glass and reach past the window to turn and open the lock.
Take note, though, that not all single cylinder deadbolt locks have a thumb turner. For an exit-only door, there is a single cylinder deadbolt lock with handle instead of a thumb turner.
2. Double cylinder deadbolt
Unlike a single cylinder deadbolt, a double cylinder deadbolt is activated by a key both on the internal and external sides of the door. This type of lock is the deadbolt lock used if there are windows near the lock.
The only issue with a double cylinder deadbolt is the possibility of being trapped once a fire breaks out. If you use a double cylinder deadbolt, make sure that the key is accessible and easy to find.
3. Touchpad deadbolt lock
The touchpad deadbolt lock offers keyless convenience. It is a deadbolt lock with keypad where passwords are entered instead of keys. During installation, new hardware will be mounted to replace the old one.
Some of the features you may find in a deadbolt smart lock are programming of six or more user codes, one-time user codes, temporarily disabled user codes, and a lockout function.
Aside from that, this lock type uses radio frequency to lock and unlock the door even when you are 30 feet away. If you have this type of deadbolt lock, you don't have to worry about forgotten passwords since it includes override keys.
How Does a Deadbolt Work
When unlocking a door with a deadbolt, you will need a key. There are pins of different sizes inside the lock's cylinder. At the top of the pins are springs that keep them in place. Once you insert the correct key, the pins will align.
The pins will assemble according to the notches and grooves of the key, allowing the cylinder to move. After you turn the key, the plug will twist. The bolt will be pulled away from the strike plate when this happens.
If you inserted the wrong key into the keyhole, the pins would not move and align. Since there are pins that block the cylinder, there is no way that the cylinder will turn. Watch this video to see how a deadbolt works.
Pros of Using a Deadbolt Lock
Secured against forcible entry
One of the benefits of using deadbolt door locks is that they are challenging to break through. Because they are made of machined steel, they cannot be easily broken compared with traditional locks.
Also, the structures of deadbolt locks make them difficult to pick and tamper. Sliding a credit card on the door does not even work because it can only be opened once the cylinder rotates.
Deadbolt locks are easy to install. You can install them by yourself without asking for professional help. You only need to drill holes and mount the lock into your door. There is no complicated wiring involved.
Less costly compared to smart locks
Compared to smart locks, deadbolt locks are less costly. You can buy a deadbolt lock for about $10 to $45. In comparison, a smart lock may cost you about $100. You have to pay a locksmith to install smart locks most of the time.
Cons of Using a Deadbolt Lock
Can be trapped inside if fire breaks out
If you are using a double cylinder deadbolt lock, it takes time before you can get out of the room since you still have to insert your key. This delay can be dangerous, especially if a fire breaks out and you have children with you.
Although deadbolt locks offer better security than traditional locks, it doesn't mean that there is no way for burglars to unlock them. Unfortunately, there are still ways to open a deadbolt lock, like picking and disassembling it.
Read more:
Frequently Asked Questions
What is a deadbolt on a door that needs to be activated by a key internally and externally?
This kind of deadbolt is called a double cylinder deadbolt lock. A key can open it from the inside and outside. It offers better security compared to a single-cylinder deadbolt lock.
Why is a deadbolt lock better than a traditional latch lock?
Unlike a latch lock, a deadbolt's bolt is not held by a spring. If compressed, the spring of a conventional lock moves then unlocks the door. In contrast, a deadbolt can only be moved by the correct rotation of the cylinder.
Conclusion
Choosing the best deadbolt lock for your door is easy if you fully understand what is a deadbolt lock. Compared to traditional locks, a deadbolt lock cannot be easily opened. Deadbolt locks can be a single cylinder, a double cylinder, or a touchpad.
Many prefer deadbolt locks because they are secured against forcible entry, easy to install, and less costly than smart locks. But these locks have downsides like making emergency escapes difficult, and they do not guarantee 100% security.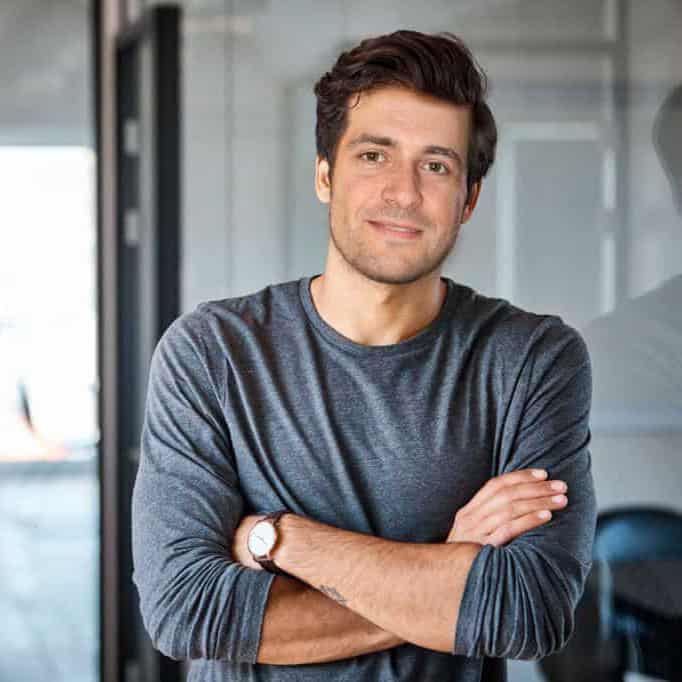 I am the last member to join Revolar and might be just the luckiest to work with dedicated people like Teddy and John. Our team has established a process where my only job is writing the best content to deliver incredible ideas and guides.