With its particular design and rustic approach to your internal home atmosphere, sliding barn doors gives your home a bump in the aesthetic department. But having such a great design comes with a cost — low to no household security.
However, it might not be the end for your sliding barn doors as there are varied choices of locks for you to choose to make your barn door locks more secure. This will give your home an added security to the well-established aesthetics.
In this article, I will show you how to lock a sliding barn door with these simple and easy steps.
Ways to Lock a Sliding Barn Door
There are different ways to have a locking mechanism for barn door, and it depends on where you want to put the lock or what materials are available to you.
Locking a barn door from the outside can be pretty simple, and gives you lots of options of locks to choose from. You can either get a keyless entry lock or barn door locks with key.
1. Keyless entry locks
There are different types of keyless entry door locks such as smart locks or code locks. To do locking for your lockable barn doors with keyless entry locks, here's what you can do:
Install your keyless entry lock. If you have an existing door lock, it is much easier to install your lock as you don't need to drill anymore.
Input your own code. After installation, you will be asked to input the default code and then change the code to your own.
Test your keyless entry lock. Lock and unlock your keyless entry lock to make sure it does the job.
Note: if you have a smart lock that is operable through wifi, connect your smart lock to the wifi first.
2. Door locks with key
Locks for barn door that can be opened with a key can also be utilized when you do not want to opt with keyless entry locks. Here's how you install the exterior barn door lock:
Install your door lock. When installing your door lock, make sure that it aligns with the bolt receiver so it will stay shut.
Test the deadbolt. Try sliding the barn door and see if the deadbolt locks.
Test the key. Lock and unlock the lock to see if your key works perfectly.
Whether you just want another layer of security or you want your private time behind the sliding barn door, you might want to put a lock on a sliding barn door from the inside. The following are some inside locks for interior barn doors:
3. Hook-and-eye lock
Hook and eye locks are great for providing privacy, especially when you want a locking barn door for bathroom. It is also proven efficient to lock double sliding barn doors. To lock with a hook and eye lock, follow these steps:
Prepare the eye and the hook. An extra hook should also be prepared to lock the barn door while it is open.
Install the hook on the sliding panel.
Install the eye on the door frame. Make sure the hook can reach the eye.
Lock the barn door by hooking it on the eye.
If you have another eye, you can install it on the opposite side.
4. Hasp and padlock.
A hasp and padlock is one of the locks for interior barn doors. If you want to go traditional with this set up, try these steps:
Prepare your hasp and padlock. Make sure the padlock's shackle can fit through the hasp.
Mark the holes on the door frame and the door for drilling.
Attach the hasp on the door frame and the door with screws with the appropriate screwdriver.
Unlock your padlock and insert its shackle to the hasp.
Lock your padlock.
Single cylinder rim lock.
This type of lock is what you want to get when you want to lock your barn door from both sides. Follow these steps to lock your barn door with a single cylinder rim lock:
Install the keyway first. Snugly fit your cylinder lock inside the hole of the door.
Attach the lockset to the other side of the door.
Test the deadbolt with a key from the outside.
Test the deadbolt by manually turning the knob from the inside.
Note: some cylinder rim locks can be self-latching barn door locks depending on the model and its features.
Other Accessories You Need for Barn Doors
Barn doors and their locks are already good as it is, but there are still ways to make it more secure and make it more aesthetic. The following are the accessories you can buy to improve your barn door:
Barn door soft closer. Doors are vulnerable to wear and tear, and barn doors are no exception. With a barn door soft closer, it will soften the impact of closing the barn door which will minimize the damage for both the track and the door.
Barn door latch. Sometimes, barn doors can easily be opened even by toddlers due to it being smooth. One way to avoid such problems is to put a latch which makes the barn door stay shut when it is closed.
Barn floor guide. A floor guide for your barn door will prevent scratching, especially if the floor and the door are close. It will also keep your door from swinging sideways.
Barn track joiner. If you want to pump up your barn door experience, you might want to get a barn track joiner. This will help you connect multiple barn doors to extend the length of it.
How Do You Lock a Sliding Door Without a Lock?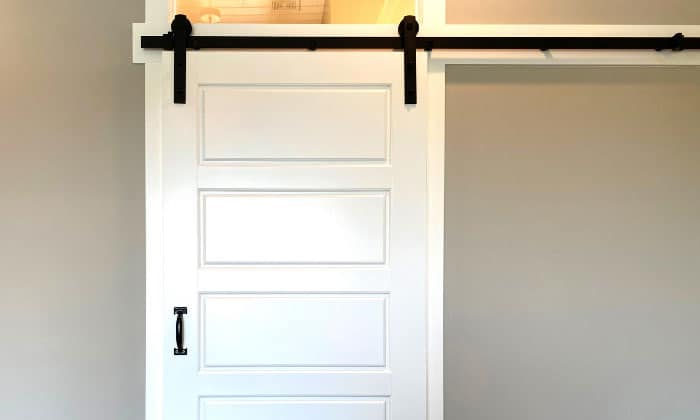 Having a sliding door without a lock can be a hazard area in your house, especially when you have young children. They might play with the sliding door and get caught in the sliding mechanism, or worse, fall off the door.
To lock a sliding door without a lock, here are some tricks you might want to follow:
1. Install a security bar or a Dowel rod.
This is the most affordable and the simplest way to lock a sliding door from the inside. All you have to do is look for a plastic or wooden rod and cut it to fit onto the sliding gap to prevent the door from sliding.
2. Seal with a latch.
Latches usually come in two pieces — one to be attached above the handle, while the other one is attached to the door frame. These latches sometimes come with a dual locking system to prevent others from tampering with the sliding door from the outside or inside.
3. Use a sliding door track lock or a slider lock.
A slider lock is simple to install as it will only require you to place the lock on the track and screw it until it securely fits. The biggest upside to this type of lock is that you will be able to lock your sliding door when it is opened.
Conclusion
Sacrificing security and privacy to make your home design more aesthetic should not be done, especially when you have a family to take care of. However, by exploring sliding barn door lock ideas, you can have the best of both worlds.
Knowing how to lock a sliding barn door will come a long way. Just pick the appropriate lock for your barn door and you can enjoy a worry-free and serene home atmosphere.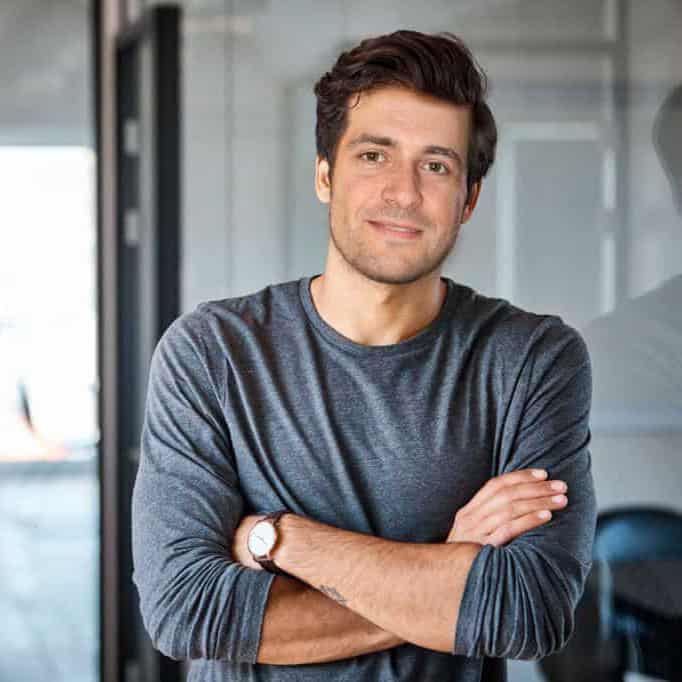 I am the last member to join Revolar and might be just the luckiest to work with dedicated people like Teddy and John. Our team has established a process where my only job is writing the best content to deliver incredible ideas and guides.