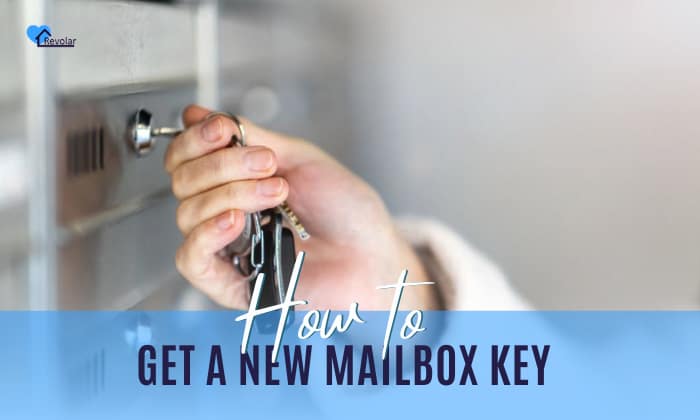 Although we have transitioned from physical letters to emails, some people still use mailboxes to receive letters and even parcels. Without mailboxes, the people who deliver your packages will just put them anywhere, where they're probably not that safe.
However, it's a different story when you have lost the very thing that can access your mailbox — the key. Although there are still ways to open your mailbox without a USPS mailbox key, they might take some time or even damage your postbox in the process.
If you are thinking of getting a new key, read through this article and find out how to get a new mailbox key.
Ways to Get a New Mailbox Key
There are essentially two types of mailboxes — USPS locking mailbox and non-USPS ones. Before diving into the actual process of replacing mailbox key, you might want to know first what type of postbox you have.
Then, follow the steps below to get another mailbox key for USPS. As for what to do if you lose your mailbox key for other types of postboxes, we'll touch on that later.
1. Find the post office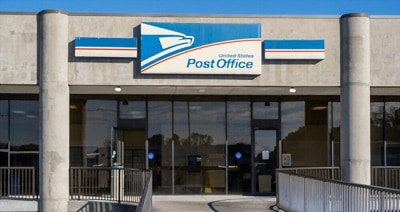 There are different USPS cluster mailboxes that are overseen by different post offices. Find out what USPS post office oversees your mailbox and access USPS find my mailbox by using the postal service's office locator tool.
2. Fill out the Form 1094 USPS lost key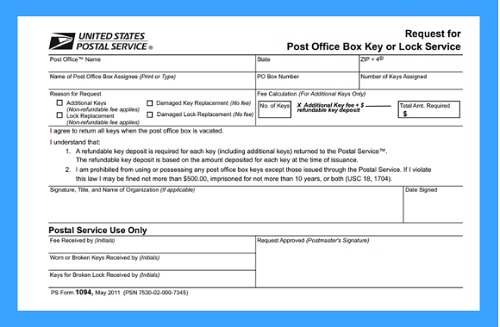 Provide the information that is asked for, such as the post office name and name of the post office box assignee. You will also fill out the reason for your request and how many keys you would like to have on the replacement form.
3. Pay the replacement charge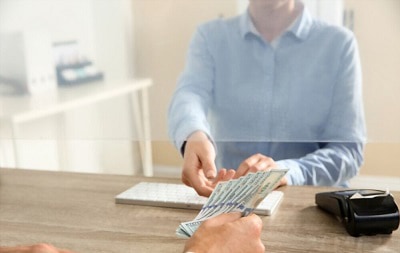 After filling out the new keys replacement form, the USPS will charge you a cost depending on the number of keys you would like to have.
Note: If your key is just damaged or worn down and not lost, the USPS will give you a duplicate mailbox key without charge.
4. Wait for the notice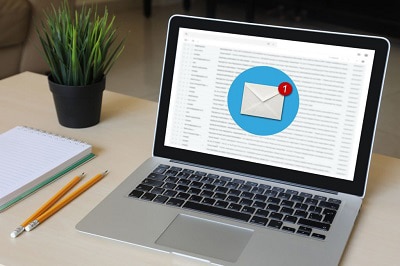 You will receive an email from the post office together with a notice card detailing when your new mailbox key is ready for pickup.
5. Claim your new mailbox key
Before leaving your house, make sure you bring something that proves your identity. You should also check the info of your mailbox on the card and ensure it's correct.
Note: If your new key doesn't work, you can request mailbox key again without having to pay for it.
For Mailboxes Not Owned by UPS
If you do not have a USPS-owned mailbox, you can try the following ways to get a new key:
1. Talk to the residential building owner
Since the building manager or landlord is responsible for the installation and maintenance of the mailboxes inside the building, you might want to approach them first to see if they have a duplicate mailbox key for an apartment postbox that you own.
2. Hire a locksmith
If you are wondering "How can I get a new mailbox key for my new house?" your best bet would be to seek a locksmith. Locksmiths can make a copy of a mailbox key for non-USPS mailboxes.
They would get a universal mailbox key blank and rekey it so that it can open your postbox. When locksmiths copy a mailbox key, you can also request how many keys you want for a price.
3. Contact the mailbox manufacturer
If you are the sole owner of your mailbox, you can contact its manufacturer and ask for a new key. The company may request a proof of purchase and a small amount of money to send you a replacement.
Common Issues With Mailbox Keys & Tips to Avoid Them
Just like other types of keys, mailbox keys can sometimes have problems where they cannot open your postbox. If you find your mailbox key not working, there are several reasons why this happened:
1. Dirty keys
Keys sometimes get dirty, especially when they are out in the open or they fall on the ground often. Because of this, they might not be able to open your mailbox, since the pins won't move properly.
Clean your keys by washing them with water and dish soap or wiping them with wet wipes.
2. Lost mailbox key
Keys are often prone to losing, and your mailbox key is no exception. Finding it would take time and there's no guarantee that you will even find it.
To avoid this problem, have a designated place where you store your keys. If you frequently rummage through pockets or desks to search for items, consider using smaller storage areas for your different belongings.
3. Broken mailbox keys
Sturdy as they are, mailbox keys can sometimes get broken due to wear and tear, or they can be hit with a strong force.
A broken key cannot be fixed, but your post office can give you a replacement. Just be gentle while handling it, and lubricate your key and lock when necessary instead of being too forceful with them.
FAQs
How much does it cost to get a new mailbox key?
If your mailbox is overseen by USPS, then the cost to replace mailbox key would amount to around $20.
How much is it to get a new mailbox key lock for a non-USPS mailbox? A locksmith would charge you about $10 for the replacement cost.
How do you open a mailbox without a key?
If you do not want to go through the process of getting a new mailbox key, there are still a couple of ways to get your parcels if you lost the mailbox key. To answer your question of "I lost my mailbox key how can I open it?" you can try to follow these steps:
If you don't mind damaging your mailbox (it must be private property, by the way), then prying it open is the way to go. Just grab your trusty crowbar, slide it into a space on the mailbox, and pull it towards you.
Prying the mailbox open is a messy job, and if you don't want to damage your postbox, the best choice would be to pick it. If you have basic lock-picking skills, then using a tension wrench and lock pick will be a walk in the park.
If you lost your mailbox key and plan on changing the mailbox lock, then drilling the lock is something that you can do. With your battery-powered drill, insert the drill bit inside the keyway until the lock falls off.
Not everyone wants to get their hands dirty. If you're that type of person, then it might be better to consult and ask for help from a professional.
Conclusion
It's important to be careful when keeping keys to valuables, especially when you live in residential areas. Something that is valuable to you and should be private might end up inaccessible.
Knowing how to get a new mailbox key will help you eliminate the worry of having your valuables locked inside your mailbox indefinitely. So the next time you ask yourself "What do I need to do to get a new mailbox key?" you already know the answer.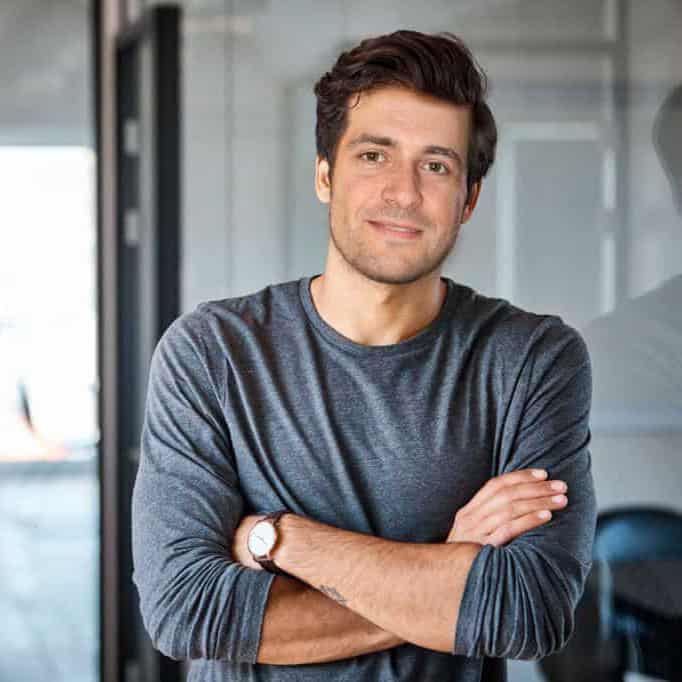 I am the last member to join Revolar and might be just the luckiest to work with dedicated people like Teddy and John. Our team has established a process where my only job is writing the best content to deliver incredible ideas and guides.