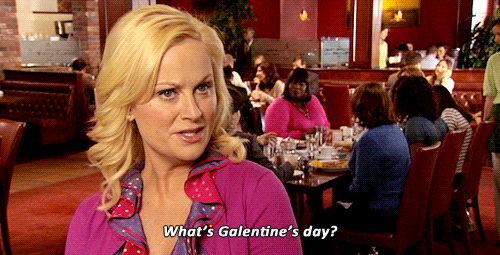 Only the best day of the year, where lady friends come together to celebrate lady friends! We've got six ideas for fun, thoughtful ways to celebrate your gal pals, near or far.
Video Chat Your Long Distance Ladies -

 

Love—er, and technology—will keep us together. If distance is keeping you from celebrating Galentine's Day with your BFFs, organize a video chat and set a time where you can all catch up in a virtual hangout. No, we know it's not the same as screaming and tackling them with hugs upon seeing them after spending months apart, but it's a close second.
Volunteer Your Time

 

- Mobilize your BFFs into a potent, kick-ass female force and go save puppies. Wonder Woman capes optional. Or volunteer at a soup kitchen for an evening. One way to strengthen friendships—or build onto new ones—is to commit to shared activity together. Add this to volunteering, an 

activity shown to give people a sense of fulfillment and connection

, and you'll have a rewarding experience and fun memories to share with your friends.
90s-inspired Sleepover

 - Remember the epic girl slumber parties of the 90s? So does

 

Bustle

. Round up the ol' gal pals for a night of nostalgic fun and watch these 

cult classics

, 

play board games

, and have yourselves a pizza party while wearing your coolest PJs. Though we don't recommend prank calling everyone in your phonebook now that caller ID is a thing and we're tragically grown up and have to pay our own phone bills.
A Mini-Marathon of Parks and Recreation

 - We'd be wrong not to honor the superwoman who invented Galentine's Day: Leslie Knope. Go back to the holiday's origin and host a Netflix binge of every Galentine's Day episode of Parks and Recreation.
DANCE PARTY!

 

- Everybody pants now. This is a good activity to follow the Galentine's Day Parks and Rec binge. And you can get the party moving with our 

#WomensMarch playlist on Spotify

.
Or, do all the things! Who's stopping your relentlessly amazing crew? Happy Galentine's Day from us to you and your lady friends!  
And if you're looking for the perfect present to let your Galentine know you ♥ them, check out our safety & communication wearables.