Securing the entry points is one of the most recommended measures to keep your property, along with the valuables inside, safe from break-ins. Windows, balconies, and doors should be prioritized. The most effective security method may vary depending on the location, security situation, and available materials.
The most effective security method may vary depending on the location, security situation, and available materials. This article will discuss options to strengthen perhaps the most obvious entry point – doors. Read on to find the best way to secure a door from the inside for you.
Ways to Secure a Door From the Inside
There are various ways of securing doors from inside that you can do by yourself. Make sure to follow safety procedures and ask for help if there's something you can't do.
The following are ways to make a door more secure:
1. Put up a Door Barricade
A barricade doesn't necessarily mean planks of wood bolted to the door to stop it from opening. To barricade a door, you will only need a metal base plate and metal barricade rail.
The sturdiness of a door barricade comes from the metal base plate, which is drilled and fastened onto the floorboard. The barricade is then attached to the base plate, which reinforces a door.
Putting up a barricade to block a door from the inside has its own set of pros and cons:
Requires no keys and locks
Cheaper than other options
As sturdy and reliable as the materials used
No need to modify the door
Drilling is necessary
Removal of barricade needs bending or kneeling
Door barricades are best for business doors where you want to prevent unauthorized entry, and also for private properties where it's vulnerable during the night.
2. Replace Your Door
To secure your door from being kicked in, you need a more sturdy door to withstand such force. If your door is rotting or rusting, it's time for a replacement.
If you have extra money in your pocket, you can go for steel or fiberglass doors which are surefire materials to prevent kick-in. However, if you're looking for cheaper options, you can go with solid wood doors.
Improved security even without lock
Door is now more durable
Improved aesthetics
Installation can be difficult and may require professional help
Higher cost compared to other options
This method of securing your door from the inside is best for dilapidated homes that need refurbishing.
3. Upgrade Your Door Lock
If your door is still in good condition, you might want to focus your attention on your door lock. A rusty, corroded, and malfunctioning lock might not have enough security and door kick-in protection that you need.
You can have an additional layer of security on top of your built-in lock or replace the old lock with a new one. You can opt for padlocks, deadbolts, night latches, or even a smart lock to secure your front door.
The followings are the pros and cons of upgrading your door lock to increase security from the inside:
Serves as your security maintenance
Plenty of locking mechanism options
Might be costly if you go for more modern options
Compatibility issues: Some modern locks may not be compatible with older antique doors.
If you are going to buy an old house and you're skeptical whether someone has keys for your built-in locks, you might want to replace them to better secure your door from the inside.
4. Install a Portable Door Lock
With a portable door lock, you can make sure that your door stays secure when you are inside.
This type of lock costs about $8 to 20$, depending on the brand. To install a portable door lock, you just need to open the door, insert the metal brace on the latch, and close the door.
Cost-effective
Installation is easy
Can be easily removed
It might not be enough to withstand a kick-in
Some doors are not compatible
If you are a traveler who stays in hotels or inns a lot, this is the best way to secure a door from the inside.
5. Reinforce Door Hinges
If you have a door that opens inward with hinges, some burglars or thieves might exploit such a weakness, especially if you don't do regular maintenance. A rusty door hinge can be easily battered down, thus rendering your door and door lock useless.
If you want to reinforce your door hinges, invest in hinges that are fitted with bolts that can prevent unauthorized people from popping out the screws of your door hinge. You must also upgrade your screws to larger and longer ones to secure both the door and door jamb.
Check out the pros and cons of reinforcing the door hinges to secure your interior door:
New door hinges and screws are cheap
Prevents kick-in
Reinforcement can be difficult
Still need to rely on the door lock
Having a property with up-to-date locks and sturdy doors will just require you to reinforce the hinges to save money and time while making your door safe and secure.
6. Install a Door Security Bar
The best way to secure a door without a lock is barricading the door itself. If you find drilling and screwing a hassle, your best bet might be to use a door security bar. This portable security bar works the same as a barricade, minus the screwing part.
This device works by placing the bottom part of the bar on the floor while the head part of the bar goes under the door knob. The height of your door security bar can be adjusted to accommodate most doors.
Portable
No drilling or screwing
Sturdy
Height can be adjusted
Can work on different types of doors
Might be ineffective on slippery floors
Much easier to bypass
If you are going to rent a house or a room, it's best to secure your door with a security bar.
Conclusion
When thinking about living a healthy lifestyle, you also need to consider improving the security inside your home. A safe and secure home equates to worry-free living.
Now that you have been presented with the ways, you now know what is the best way to secure a door from the inside. Share these tips and tricks with your friends and help them make their homes safer.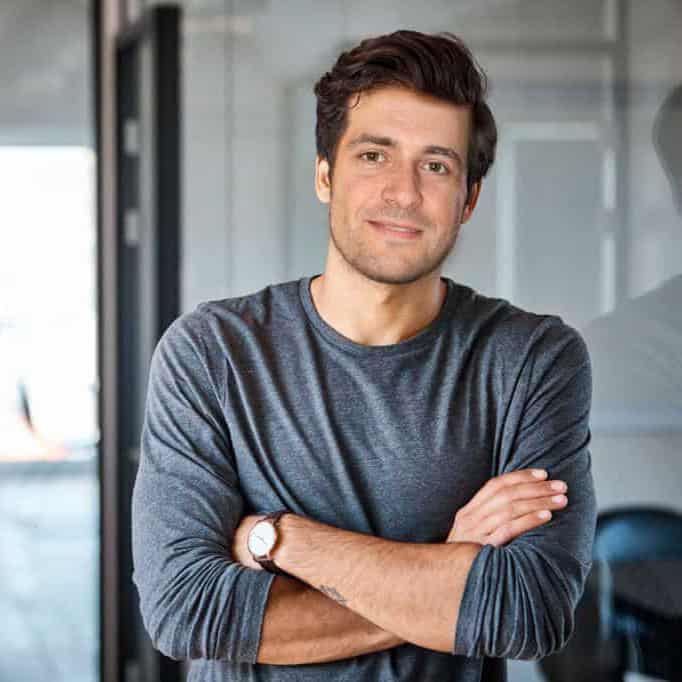 I am the last member to join Revolar and might be just the luckiest to work with dedicated people like Teddy and John. Our team has established a process where my only job is writing the best content to deliver incredible ideas and guides.